Things You'll Need
Basket

Hot-glue gun

Ribbon

Decorative accessories of your choice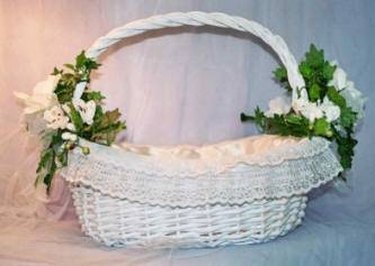 There are two kinds of wedding baskets: those that are used as part of the wedding ceremony and festivities, such as the basket carried by the flower girl or the basket used to hold wedding cards on the gift table, and those wedding baskets that are given as gifts, such as a wedding-themed gift basket. There are several ways that you can decorate either kind of wedding basket.
Step 1
Consider the use of the basket. If the flower girl is going to be carrying it, you will want to decorate it in more of a "girlish" style, with ribbons to match the flower girl's dress. If the function is to hold gifts, you will want to make the basket decorations less lavish, so that there will be more room for the gifts.
Step 2
Line the inside of the basket. For a gift basket, you can use tissue paper. This can be simple white paper or tissue paper with a wedding pattern on it, such as wedding bells. You can also use pretty fabric to line the basket, or white tulle. If using fabric, you may need to put a few dots of hot glue on the bottom of the basket to hold the fabric in place.
Step 3
Decorate the edge of the basket. You can use a row of beads, lace, ribbon, fake flowers or anything else you can think of that might work. Again, try to match the theme of the wedding. You will not want to use lace dripping with beads and fake flowers for a simple, elegant wedding. Instead, a single satin ribbon might be better. Use hot glue to hold the decorations in place.
Step 4
Decorate the handle of the basket. Try twining a ribbon around it. Tie a bow near the basket at the end of the handle or at both ends, and hot glue it in place. Add a flower to the middle of the bow. If the basket is going to be carried, make sure you do not have anything glued to the top of the handle because that would hinder the person's ability to carry it.
Step 5
Add finishing touches. Consider including a black and white photo of the bride and groom, attached to the front of the basket. Add a placard or tag explaining what the basket is to be used for, such as "Please deposit wedding cards here." For gift baskets, add a warm, handwritten note with best wishes.
Tip
Search thrift stores for inexpensive baskets, and don't let the wrong color throw you off. Spray paint is cheap and easy to apply.