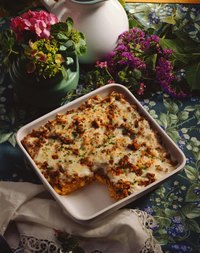 This casserole combines the best elements of spaghetti and lasagna into an excellent dish. It's perfect to take to a potluck party or keep as a make-ahead meal to save for dinner on a busy night. Just double the recipe and put one in the freezer for later. Serve with a side salad and garlic bread.
Things You'll Need
1 pound hamburger
1 pound spaghetti
Homemade or jarred spaghetti sauce
8 ounces processed cheese
8 ounces cream cheese
1 small onion
Shredded mozzarella
Shredded cheddar
Parmesan cheese
Preheat oven to 350 F. Brown the hamburger and the onions in a medium-size sauce pan. Drain the hamburger and return it to the pan. While the hamburger is browning, start the spaghetti.
Add the cream cheese and the processed cheese to the hamburger after draining the fat. Stir continuously until the cheese melts and is blended with the hamburger. If you make your own sauce, you can brown the hamburger in a skillet but still add the cheese to the hamburger.
Add the spaghetti sauce and bring to a simmer.
Prepare to layer the pasta and sauce once everything is cooked. Spray the casserole dish with nonstick spray. Spread a layer of spaghetti in the bottom of the pan.
Spoon a layer of the meat sauce over the noodles. Sprinkle shredded mozzarella and shredded cheddar over the sauce.
Add another layer of spaghetti noodles and then a second sauce layer. When you add the shredded cheese this time, make sure it covers the spaghetti and sauce completely.
Bake 20 to 30 minutes or until all the cheese melts. Serve hot.