Things You'll Need
Nylon or leather cord

Beads

Spacer beads

Charms

Scissors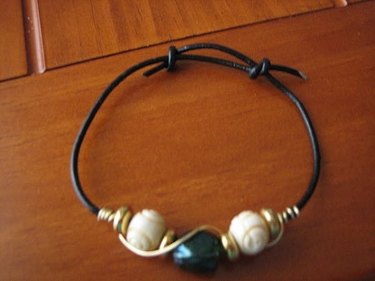 Making an adjustable bracelet is a fairly simple task. There are lots of styles, this is the easiest one, and can be varied in color and bead styles.
Step 1
Wrap the cord around the wrist and overlap the ends enough to make some extra length. This lenght will be used to tie the knots that make the bracelet adjustable. This is the last thing you will do after making the bracelet with the desired beads.
Step 2
Place some scotch tape over the end of the cord. This will hold the beads on while working on the design. Keep this on until the bracelet design is finalized. Decide how much of the cord you want to use for the beads. Place some tape at the point the beads will end, leaving some room for tieing off the ends to make the adjustable knot. This bracelet will have some blank cord at each end to slide the knot up and down to adjust the size. Now your are ready to finish off the bracelet. Wrap one end of the cord over the other side of the cord and tie a knot. Just one knot. Leave about 1/2 inch of cord or less when tieing over. This can be trimmed when you are sure it is the right size. Then take the other end of the cord and tie it over the opposite side of the cord. Tie this knot and slide each knot down the cord. Place bracelet on and adjust the knots until it fits nicely. These knots can be slid either direction to tighten or loosen to remove the bracelet easily.
Step 3
The bracelet can be made and the knots tied before stringing, but will have to be undone to place on the beads. This is a way to gauge the exact amount of cord that will be needed to make it fit to your comfort, and still be large enough for someone else with a larger wrist. Even a blank cord with just knots is a nice bracelet too. Make a bunch in lots of colors, and types of cords.
Tip
Leather is slick and easy to adjust. Nylon is a good one for varied colors. Glue end of cord with a small dot of glue to keep from raveling.
Warning
If you use leather keep your wrist out of water when washing hands. Check the holes in the beads for size so the cord will go through ok, or you will find that you may need to buy others that will fit.