Things You'll Need
Zippered plastic bag

Grater

Medium-sized pot

1 tsp. glycerin

1.5 liters water

Wooden spoon

10 to 15 drops essential oil

Stick blender or hand mixer

Glass jar, bottle or liquid soap dispenser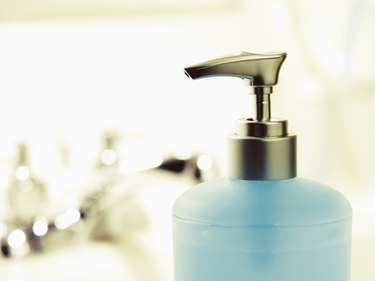 Bar soaps are an attractive, economical way to cleanse hands, until the bar dwindles to a scrap that is unusable. It is a waste to throw out this scrap and replace the bar. Instead of wasting these seemingly useless scraps, gather them all up and produce a homemade liquid soap. This liquid soap will not only make an attractive addition to your kitchen or bathroom it is also an inexpensive, homemade gift.
Step 1
Save all your bar soap until you have approximately three to four cups of shavings or scraps. Store the scraps in a zippered plastic bag until you reach this amount.
Step 2
Grate the soap chunks into a medium-sized saucepan. Add 1 tsp. glycerin, which is available at drug stores.
Step 3
Pour 1.5 liters warm water into the pot. Cover the pot and warm the ingredients over low heat, or approximately 170 degrees Fahrenheit, for one hour. Remove the cover periodically and stir the ingredients with a wooden spoon.
Step 4
Remove the pot from the heat and stir in 10 to 15 drops of essential oils. Stir the mixture well to incorporate the oils.
Step 5
Allow the mixture to cool in the covered pot for at least eight hours, or overnight.
Step 6
Blend the gelatinous soapy mixture with a stick blender or hand-mixer. Continue to blend the ingredients until they are less dense and take on the consistency of liquid hand soap.
Step 7
Pour the mixture into a glass jar, empty plastic shampoo bottle or decorative liquid soap dispenser.