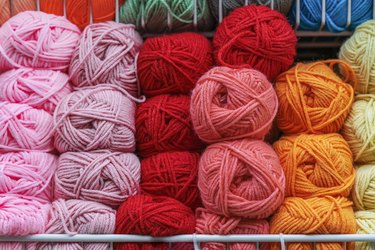 Once you've mastered the chain stitch and single crochet, it's time to try your hand—or, should we say, hook!—at a double crochet stitch. This stitch is essentially the length of two single crochet stitches, which allows for a more elongated stitch that goes more quickly than single crochet. And we've got the perfect project to test out this stitch on: A double crochet scarf!
In our humble crocheting opinion, double crochet and scarves go together like peanut butter and jelly. That's because the stitch gives scarves a pleasant drape, making them cozier and easier to wrap. A double crochet scarf is also one of the best beginner crochet projects because it follows a simple pattern with lots of repetition—so you can practice your double crochet stitch over and over and over again.
Before we get into how to crochet a scarf for beginners, we'll go over foundation crochet stitches and double crochet. That way you have all the tools you need to crochet a scarf using double crochet.
Things You'll Need
Yarn

Tapestry needle to fasten off

Crochet hook (in size that matches yarn weight; check back of the wrapper on skein of yarn to see which hook size your yarn requires)
Tip
You can use any type of yarn for this project as long as you use the crochet hook size specified on the yarn wrapper. Worsted weight yarn, super bulky yarn or chunky yarn is easier for beginners. We also recommend Lion Brand Wool-Ease yarn in the Thick & Quick style for a winter wardrobe-worthy scarf.
Part 1: Review Foundation Crochet Stitches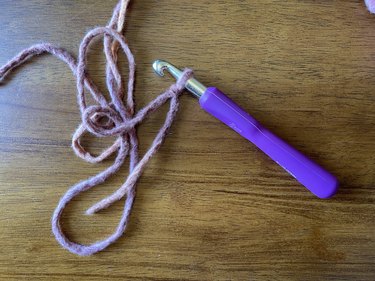 Even though this beginner crochet scarf features all double crochets, it helps to have an understanding of the basic, simple stitches that come beforehand. In some cases—such as with the foundation chain—you'll need these stitches for your project. And in other cases, you might want to incorporate them throughout to create different textures, such as alternating rows of single and double crochet stitches.
So let's review basic crochet stitches (and their abbreviations):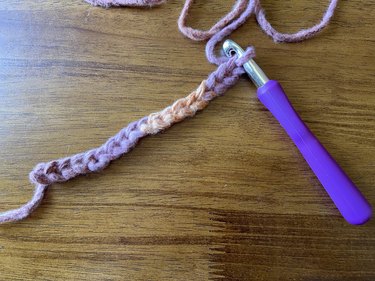 Tie a slipknot and poke crochet hook through loop of the knot. Yarn over and draw a loop of yarn back through slipknot. Repeat the chain stitch—yarning over and drawing a loop through—until you can create a chain with consistent tension.
2. Single Crochet Stitch (SC)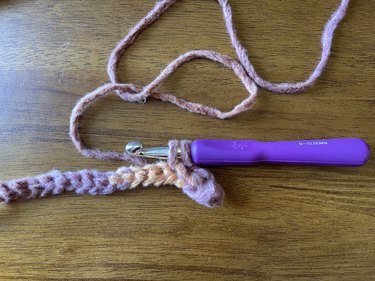 Poke your crochet hook into the first stitch of the previous row. Yarn over, draw this loop back through the stitch, then yarn over again and draw that loop through both loops already on your hook.
3. Half Double Crochet Stitch (HDC)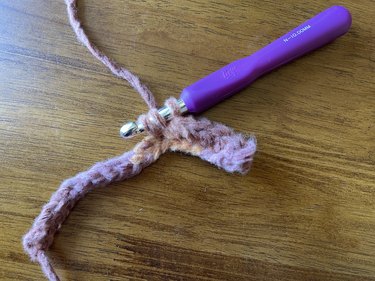 Yarn over, poke crochet hook into first stitch of the previous row and pull up a loop so you have three loops on your hook. Yarn over again and pull through all three loops to create a stitch.
Tip
When starting a project, insert your hook into a chain stitch from the foundation chain. Start by skipping the chain stitch closest to your hook on the left, then insert hook into the second stitch.
Part 2: How to Double Crochet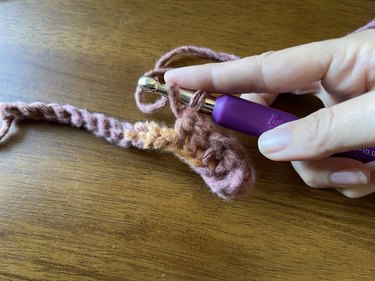 Now that you have an understanding of the chain stitch, single crochet stitch and half double crochet stitch, let's dive into the world of the double crochet, sometimes referred to as "DC" on crochet patterns. The double crochet stitch is created using the same basic movements as single and half double crochet: Yarning over and drawing that loop through previous loops.
To work a double crochet, yarn over before you insert your hook in the first stitch of the previous row. Yarn over and draw that loop back through the stitch you're working into, leaving you with three loops on the hook. Yarn over and draw that yarn back through two of the loops on your hook, then yarn over again and draw that yarn back through remaining two loops on your hook to complete double crochet stitch.
Part 3: How to Crochet a Scarf
1. Create foundation chain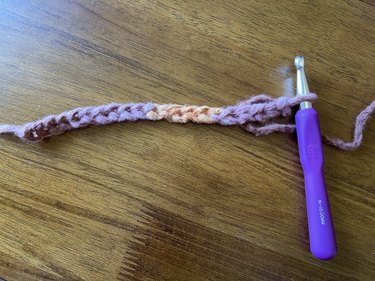 Creating a foundation chain is the first step in any crochet project—including this beginner-friendly easy scarf tutorial. Start by creating a slip knot and use your crochet hook to create 25 chain stitches.
Tip
The chain represents the width of your scarf. If you want something wider, like a blanket scarf, make the chain a bit longer.
2. Add single crochet stitches into foundation chain
To start the first row, flip foundation chain so loops are at the top. Insert crochet hook into top of the second chain from the hook and create a single crochet stitch. Repeat this all the way down the chain until you are left with one row of single crochet stitches.
3. Create first row of double crochet stitches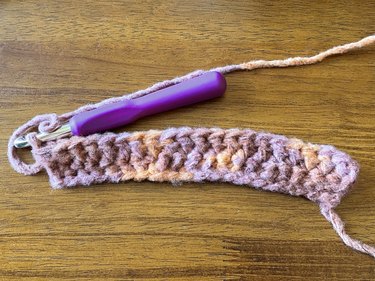 When you reach the end of the first row, chain 2 (this will create the height of the double crochet stitch), turn your work and add a double crochet stitch to the first stitch from the previous row. Continue down the row until you have a row of double crochet stitches.
4. Repeat until reaching desired length
To continue adding length to the scarf, repeat row two (aka step three).
Tip
There are so many different scarf styles out there. This easy crochet scarf pattern is the foundation for creating a cowl scarf, blanket scarf, infinity scarf and more. Here's how to modify your pattern accordingly:
‌Cowl Scarf:‌ Make the length a little wider than the circumference of your head, then use a tapestry needle to sew the sides together.
‌Blanket Scarf:‌ For a blanket scarf, add some extra width and length to create that oversized look.
‌Infinity Scarf:‌ Keep your scarf around 10-in. wide and, once it's long enough, use a tapestry needle to sew both ends together so that it's one continuous loop.
When you reach desired length, fasten off your work. Do this by snipping the tail of your yarn (make sure to leave at least 10 in. so you have enough material to work with when weaving ends in) and pulling it all the way through the last stitch. Attach tapestry needle and weave the tail in and out of stitches to hide it. Snip off excess tail to finish.
Part 4: How to Add Tassels
Fringe is one of the most common embellishments you'll find on crocheted or knitted scarves; it adds length, movement and interest to your work. For a thick fringe, cut 96 8-in. strands of yarn and group them in bundles of two. Fold each bundle in half and poke the loop that you just created through one of the stitches at end of scarf. Draw ends of each fringe bundle back through its own loop, tugging on the ends to tighten loop around itself. Repeat this step for each of the stitches at each end of scarf.
More Easy (And Free) Crochet Patterns