Creating a gift basket for someone is a good idea when you need an easy gift for any special occasion. Tailor your gift basket so that it fits a particular interest of the person for whom you are shopping. If the person likes to cook or eat Italian food, a pasta-themed basket is a good option. Go to your local grocery store or specialty-foods shop and put together a pasta gift basket that any foodie would love.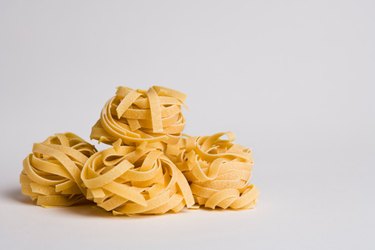 Things You'll Need
Long Pasta

Pasta Bowl Or Colander

Wooden Spoons

Parmesan Cheese

Bottled Pasta Sauce

Short Pasta

Dried Herbs

Garlic Press

Pasta Cookbook
Step 1
Purchase a large pasta bowl or a colander to use as the base of your pasta gift basket. If you can find a decorative one, that would work well.
Step 2
Place several different types of pasta inside the gift basket. Choose long pastas, like spaghetti and fettuccine, as well as short pastas, like penne and rotini. You may want to purchase gourmet pasta from a specialty shop.
Step 3
Add jars of pasta sauce to the basket. Select a few different types of pasta sauce, such as a simple marinara, a Bolognese, a pesto or a vodka sauce.
Step 4
Place kitchen utensils inside the gift basket that are commonly used when preparing a pasta dish. For example, add a garlic press and a set of wooden spoons.
Step 5
Add a variety of dried herbs -- such as basil, parsley, thyme and oregano -- to the basket, along with a wedge of Parmesan cheese.
Step 6
Complete your pasta gift basket with an Italian cookbook that includes lots of different ways to prepare pasta dishes.
Step 7
Tie the whole thing up with cellophane and finish with a decorative ribbon, possibly several ribbons in the colors of the Italian flag.