Things You'll Need
2 rectangles of fabric, each 30 x 16 inches

1 rectangle of batting, 30 x 16 inches

1 rectangle of fabric, 16 x 11 inches

1 package of double-fold bias tape

Tailor's chalk or washable fabric marker

Thread

Scissors

Sewing machine

Pins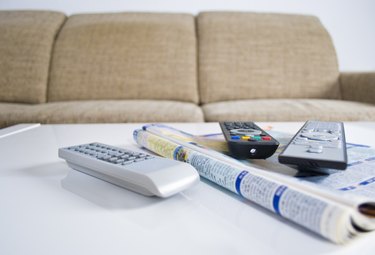 Remote controls must have legs -- they never seem to stay where you left them. Sew a simple remote control holder to keep those wandering remotes in one place. The finished holder will hang conveniently over the arm of the couch or chair. All it takes is fabric, bias tape and basic sewing skills. Cotton quilting fabric is great for this project, as it can be tossed in the washer when needed.
Step 1
Mark a grid or diamond pattern on the right side of one of the 30 x 16-inch rectangles with the tailor's chalk
Step 2
Place the batting between the 30 x 16-inch rectangles, right sides of the fabric facing outward. Pin in place. Stitch the layered fabric together along the marked lines.
Step 3
Sew bias tape to one long side of the 16 x 11-inch rectangle. Trim the edges of the bias tape so they are even with the fabric.
Step 4
Mark three pockets on the 16 x 11-inch rectangle. Measure 5 inches in on each of the short sides. This will create two pockets 5 inches wide and one pocket 6 inches wide.
Step 5
Pin the 16 x 11-inch fabric along the short end of the 30 x 16-inch rectangle. Stitch through the layers along the marked lines to create the pockets.
Step 6
Pin the bias tape around the outside edge of the remote control holder. At the corners, create either a mitered or square edge with the bias tape. Overlap the bias tape slightly, turning the top edge under.
Step 7
Sew the bias tape in place along the edge of the bias tape using a straight stitch.
Tip
Adjust the pocket sizes to fit your remote controls if necessary or create two large pockets instead of three pockets.
Pockets can be made from coordinating or contrasting fabric
Bias tape is also called bias binding and is usually found by the notions in fabric and quilting stores.
Miter the corners of the bias tape by gently pressing the bias tape flat with fingers. This will leave a small triangle of bias tape. Tuck the triangle under the bias tape, laying it flat to one side.
For a different look, instead of using bias tape around the edges, stitch around the remote control holder 1/4 inch from the edge with pinking shears.