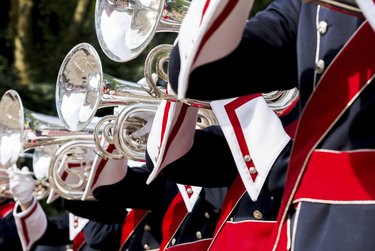 More than 3.5 million tourists and locals crowd the streets of New York City every year to watch Macy's Thanksgiving Day Parade, which showcases live music performances, giant balloons, marching bands and more. Those hoping to secure a seat have to apply for a job at Macy's as grandstand seats are reserved for Macy's employees and select charities.
Location, Location, Location
As of 2013, locations to view the parade include the west side of the street from 70th Street to Columbus Circle and the east side of the street from 70th to 65th, according to NYC.com. New York City Vacation Packages claims that Sixth Avenue between 59th and 34th Streets is open to the public. Mommy Poppins warns that both the grandstand area near Columbus Circle and Sixth Avenue between 34th and 38th Street are closed to the public.
Room With a View
A handful of New York City hotels are located along the parade route, providing clear views of the balloons without throngs of onlookers. However, the Travel Channel notes that room rates may be up to triple the usual price, and you may need to book more than a year in advance.
Balloon Blast-Off
To take a peek at the massive balloons before the action, head over to the American Museum of Natural History on 79th Street. Parade workers inflate the balloons the day before the parade, a task that generally lasts from about 3 p.m. until 10 p.m. If you really want to get in on the action, volunteer your services as a balloon handler. Though competition for these coveted positions is fierce, Macy's accepts applications on their parade website.
Considerations and Concerns
The parade starts at 9 a.m. and lasts until 12 p.m. Visitors who hope to get a front-row spot should plan on arriving as early as 6 a.m. Some diehards arrive even earlier to guarantee a good spot. NYC.com notes that temperatures around Thanksgiving generally fall to about 40 degrees Fahrenheit, so dress warmly. Wear layers so you can remove them if necessary as the day warms up. Although you may be tempted to trick the system by bringing your own seat, folding chairs are not allowed.