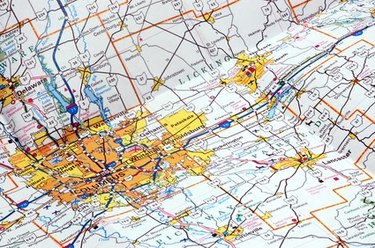 After spending months planning an event, you want to make sure that your guests can find it. Out-of-town guests will barely know the city, much less the destination for the event. Even local guests might spend considerable time searching for it or drive right by without knowing this is the spot. Prevent these disasters by including a map with your invitations. Take it a step farther and include written directions with landmarks for guests to spot.
Step 1
Select an online map generator and gather addresses. Several online sites allow visitors to create free printable maps for use. These directions use MapQuest (see Resources). Gather all the addresses you want to include on the map. Make sure they are correct and the streets are spelled correctly.
Step 2
Go to the MapQuest website and choose the "Directions" tab at the top. Enter the starting address and ending address. Check that the correct locations are showing. The starting address should be marked with a star and the letter A. The ending address is marked with a star and the letter B.
Step 3
Enter more addresses. Under the ending address, a tab marked "Add Another Location" allows you to add more locations to the map. Click the tab to open a box under the last location. Enter the street address, city and state. Click "Add location" to add it to the map. Enter as many addresses as you want.
Step 4
Select the correct scale for the map. Zoom in if the locations are close so guests can read street names and one-way streets. Zoom out if guests must travel great distances. Proofread the map. Every location entered is marked with a star and letter. Make sure the stars all point to the correct locations.
Step 5
Print the map and create a key. At the bottom of the map, write letter A = church, B =hotel. Explain all the stars so guests understand what is shown on the map.
Step 6
Include written directions. MapQuest provides written directions from location A to location B and all other addresses. Print written directions with street names, turn directions and distances on the back of the map. Provide a complete address for each location for guests with navigation systems in their cars.
Tip
If you're having more than one event, such as a rehearsal dinner and wedding, include each location on the same map to be environmentally-friendly and save printing expenses.
Warning
Even with a map, out-of-town guests might get lost. Include an emergency number on the back of the map of someone the guests can call in case they need verbal directions.