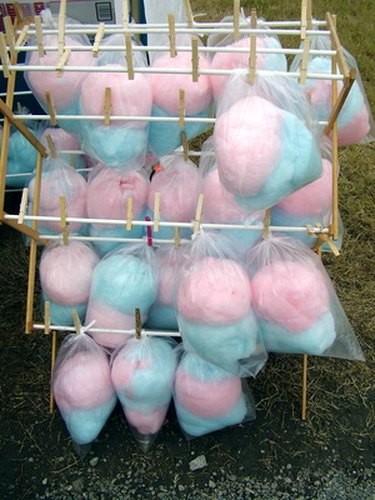 Children of all ages love the circus. The wonder and excitement of the big top can be as close as your own backyard. All it takes is a little planning and imagination to throw a circus-themed party your child will love without blowing your budget.
Clown Parade
Start your circus party off with a clown parade. Have your guests decorate their own forms of transportation. Skates, tricycles, scooters, bikes and wagons are good choices. Provide crazy wigs, wacky bow ties, plastic noses, colorful outfits and over-sized shoes for the guests to dress up in their zaniest outfits before joining the clown parade.
Decorations
Turn your backyard into a three-ring circus of fun. Use colorful party streamers and balloons to cordon off the designated areas. Create an area for activities and games, one for the food booths and one for the costume parade. Blow up or make animal-shaped balloons and attach them to the back of the chairs. Fill the yard with colorful streamers and balloons. Add circus posters and inflatable clowns. Play circus music to add to the big-top atmosphere.
Games and Activities
Circus games are fun for children of all ages. Set up a face-painting booth. Use bright non-toxic paints to create clown faces, animal or flower designs. Add washable tattoos and face stickers to add to the festive atmosphere. Play "Guess How Many." Fill a plastic jar with jelly beans and have the children guess how many candy pieces are in the jar. The child that comes closest to the exact amount wins the candy. Have an adult dress up as a clown and make balloon animals for the guests. Play "Balloon Pop" by having the children throw darts at brightly colored balloons to win a prize.
Food
Serve your circus-themed food from a colorful carnival booth to add to the excitement of the day. Finger foods are easy to hold and can be enjoyed while moving around. Serve hot dogs and corn dogs on brightly colored party platters with circus-themed napkins. Other circus treats include cotton candy, popcorn, candy apples, caramel corn and funnel cakes. Fill large colorful tubs with crushed ice, canned soft drinks and juice pouches and allow the guests to serve themselves. Set up a cupcake station for the guests to decorate their own cupcakes. Provide vanilla cupcakes, brightly colored icing, sprinkles and animal-shaped fruit snacks. Make snow cones by pouring fruit-flavored syrup over crushed ice. Serve in cone-shaped paper cups.
Goody Bags
You can create circus-themed goody bags that are inexpensive, and the children will enjoy discovering the special treats. Purchase authentic popcorn boxes at your local craft or party supply store to use as goody bags. Fill the boxes with mini coloring books, paper airplanes, small balls, magic tricks, small stuffed circus animals, whistles, colored pencils or tattoos.