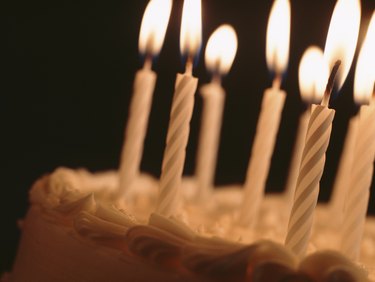 A 24th birthday is not a milestone. Nevertheless, it is a great excuse to party. If one of your girlfriends is turning 24, consider some of the many memorable ways to honor her birthday. Throw her an all-girls party that encourages you and your friends to reconnect and forget all your troubles.
Home Spa Party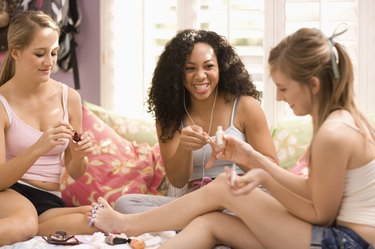 Most women love to visit the spa, but many of them probably cannot afford to go often or simply do not have the time. Create a spa environment in your own home and allow party guests to enjoy a few special treatments. To decorate, dim the lights and light candles all over the party space. Make sure to use votive holders and candle shades to prevent an accidental fire. You can also burn calming essential oils and play relaxing spa music to really play up your theme. In terms of spa treatments, hire a mobile spa to come to your home. These services consist of several professionals with portable tables to do massages, facials, manicures, pedicures and other various spa treatments. Do not forget to have bottled water on hand and serve a light spa lunch. Let your guests know to bring a robe and slippers to wear during their treatments.
Night Club
If the birthday girl loves to dance, then consider throwing her a party at a night club. Call ahead to get you and your friends on the guest list so that no one has to wait in line. Reserve a booth so your party has a place to gather. Ask if they can decorate the booth with a few balloons to add to the festivities. While at the club, order bottle service to feel like true VIPs. Bottle service includes one or more bottles of liquor along with glasses, juices and soda for mix, ice and various garnishes. This eliminates the need to stand in long line ups at the bar and allows you and your guests to mix your drinks exactly how you like them. Since there will likely be a lot of drinking, arrange for a safe ride there and back beforehand. If you can afford it, rent a limo or party bus. Otherwise, take a cab or establish a few designated drivers.
Adult Slumber Party
Most women have been to a slumber party at some point during their childhood or teen years. Recreate that experience by throwing an adult slumber party and stay up all night with the girls. Invite your friends over to your house and have everyone wear pajamas. To make the birthday girl feel special, surprise her with a pair of birthday pajamas that have pictures of birthday candles, balloons or anything else birthday-related on them. Have plenty of junk food and soda on hand and order take out food for dinner, like pizza or Chinese. You can even serve some girly cocktails, such as cosmopolitans, chocolate martinis, piña coladas and strawberry daiquiris. After you have eaten dinner, watch movies, play truth or dare, paint each other's nails, do each other's hair, apply face masks, flip through magazines or play some music and dance around the room. You can even hire a belly dancing or strip-tease instructor to come for an hour.
Surprise Party
A surprise party is a classic idea for men and women of all ages. It really is quite flattering to know that your friends went out of their way to not only throw you a party, but also to keep it all a surprise. A surprise party can be held at someone's home or in a party room at a restaurant or bowling ally. All you really need is decorations, music, food and drinks. Designate someone to keep your friend busy while the party is being set up and to get her to the party on time. This can be accomplished by having her take the birthday girl out for a movie or spa treatment during the day. Also, if the party is being held at a house, make sure people park down the street so that the cars do not give away the surprise.