Golden, crunchy and crisp on the outside while soft, oozy and cheesy in the middle, these bite-sized tater tots make for an irresistible appetizer, finger food or savory snack. They are stuffed with a smooth mixture of creamy potato, smoky bacon and Parmesan cheese. Learn how to make them by following these simple instructions. But beware: They are addictive!
Things You'll Need
3 large potatoes, peeled and cut into 1-inch / 2.5-centimeter cubes

2 tablespoons butter, softened

1 onion, diced

4 ounces / 115 grams bacon or another meat such as ham, prosciutto or chorizo

1 teaspoon rosemary

1/4 cup heavy cream

4 ounces / 115 grams Parmesan or cheddar cheese, grated

1 cup plain flour

2 eggs, lightly beaten

2 cups Panko bread crumbs

Sea salt and cracked black pepper

Neutral oil, for deep-frying
Step 1: Prepare Ingredients
Measure out all the ingredients before you begin to have them handy while you're working.
Step 2: Boil the Potatoes
Boil the potatoes in a pot of lightly salted water until tender, about 20 minutes. Drain and then transfer to a large bowl, setting it aside to cool.
Step 3: Cook the Onion and Bacon
Melt a tablespoon of butter in a small frying pan over medium heat. Add the onion, and cook until translucent at the edges, stirring occasionally. Add the bacon, and fry until golden and crisp. Season to taste with salt and pepper, and then remove from the heat and set aside.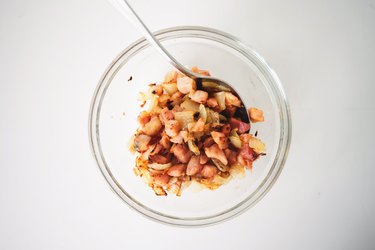 Step 4: Mash the Potatoes
Roughly mash the cooled potatoes.
Step 5: Prepare the Filling
Add the onion and bacon mixture to the potato bowl, along with the rosemary, remaining tablespoon of butter, cream, salt and pepper. Stir roughly to combine.
Step 6: Add the Cheese
Lightly fold in the cheese to form a textured but uniform mixture.
Step 7: Shape
Form 1 tablespoon of the mixture into 3-inch / 7-centimeter long oval shapes, and flatten the edges. Alternatively, you could shape the mixture into 1-½ inch / 3-cm balls if you prefer something more bite-sized.
Step 8: Prepare the Coatings
Place the flour, eggs, bread crumbs in three separate bowls.
Step 9: Coat the Tots
Dip each piece into the flour, then the beaten eggs and then the bread crumbs. Transfer to a parchment lined baking tray.
Step 10: Deep-Fry
Heat 2 inches / 5 centimeters of oil in a deep saucepan to 375 C / 180 C. Working in batches, fry the tots, turning as needed, until golden and crisp, about 2 minutes.
Place the tots on a baking tray lined with paper towel to drain off any oil, and then season them with salt. Freshly made tater tots can be kept in a warm oven to retain their temperature as you fry the remaining batches.
Serve the tater tots immediately. They are even more delicious when accompanied by a good savory relish, chutney, jam, aioli or tomato sauce to cut through their decadent richness.