Things You'll Need
1 white kitchen trash bag

Broom handle

4 bags cotton fiber fill

Light yellow pillowcase

White rope

Scissors

1 large bag of straw

Brown, blue, red and orange permanent markers

Black witch hat

Hot glue gun

Hot glue

Extra-large dark green turtleneck

2 white gloves

Brown sweatpants

Orange, yellow and brown acrylic paint

Brown pointed-toe boots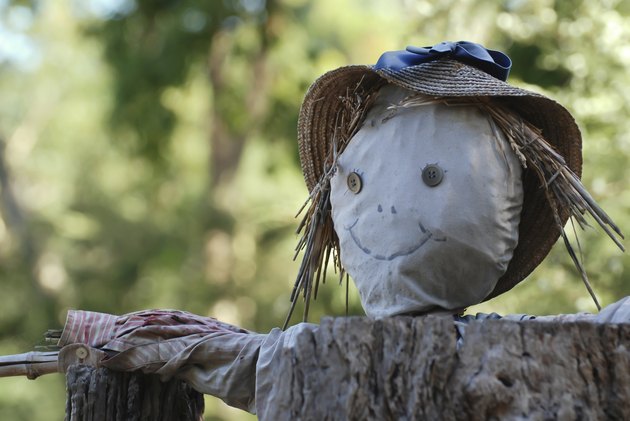 Bring a touch of The Wizard of Oz to your front porch with a Wizard of Oz-inspired scarecrow. This scarecrow can be created life-size using a turtleneck shirt, a pair of brown sweatpants, a pair of boots and a pillowcase. This is an easy-to-make scarecrow project that would be fun to complete with children, and can be accomplished from start to finish in a couple of hours.
Scarecrow Head
Step 1
Stuff one kitchen trash bag halfway full with cotton fiber fill. Insert one end of a broom handle into the trash bag and twist the end of the trash bag around the handle.
Step 2
Shape the trash bag until it looks like a round scarecrow head. Secure it to the broom handle with tape. Place the pillowcase over the trash bag.
Step 3
Cut an 8-inch length of rope. Pull the pillowcase taught around the filled trash bag shape. Tie the pillowcase at the open end.
Step 4
Decorate the scarecrow's face. Draw brown triangular eyebrows onto the upper-middle section of the scarecrow's face.
Step 5
Draw two human eyes onto the face beneath the eyebrows with the blue permanent marker.
Step 6
Add a triangular nose with the orange marker between the eyes that extends 2 inches towards the bottom of the face.
Step 7
Draw a set of lips with the red marker below the nose. The lips should be a finger-width beneath the end of the nose.
Step 8
Hot glue a black witch hat to the top of the scarecrow's head.
Step 9
Hot glue a piece of rope around the base of the hat.
Scarecrow Body
Step 1
Slide the turtleneck shirt onto the broom handle. Stuff the shirt with fiber fill. Make sure that the pillowcase ends cover the neck area.
Step 2
Stuff the end of the arms of the shirt with straw.
Step 3
Fill the white gloves with fiber fill and insert them into the end of the arms of the turtleneck. Tie them in place around the outside of the shirt with a piece of rope.
Step 4
Paint the sweatpants. Paint an orange circle on the upper-right thigh and a yellow circle on the mid-shin. Paint a yellow circle on the upper-left thigh and a brown circle over the left knee. Let the paint dry.
Step 5
Slide the sweatpants onto the broom handle. Make sure that the handle slides down one pants leg.
Step 6
Stuff the pants with fiber fill.
Step 7
Place the elastic leg band over the brown boots.
Step 8
Add straw into the ends of the pants legs.
Step 9
Secure the legs in place with rope.
Step 10
Add a rope around the center waist section of the scarecrow.