Things You'll Need
Needle

Thread

Measuring tape

Scissors

Medium sized bead

3 - 10-yard spools of 5/8-inch ribbon

Air-soluble marker

Coordinating ribbon

Beads (optional)

Crystals (optional)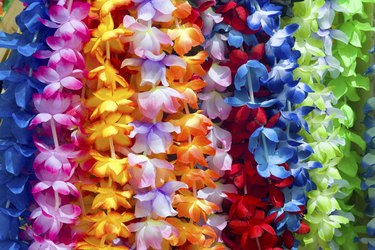 Say "Aloha" at graduations, baby showers, birthdays, luaus and other special occasions with a vibrant ribbon lei. The basic process of constructing this handmade keepsake is unvarying, though the look of your lei is highly customizable, as you can select ribbons of the color and design you desire. You can also incorporate beads, crystals and silk flowers. Give a long-lasting gift of the islands with this enjoyable project that can be made in approximately 90 minutes.
Step 1
Determine how long you want your lei. Double that number and add 8 inches to the number. Cut a piece of thread that length. For 36-inch lei, you will need to cut a piece of thread 80 inches long.
Step 2
Double thread the needle. Insert the thread into the needle and pull halfway through.
Step 3
Place your bead down on your work surface. Thread one end of the thread through the bead. Thread the other end through the opposite side of the bead. Pull each thread out 6 inches. Tie the threads in a secure double knot at the bead. Set aside.
Step 4
Unroll a spool of ribbon. Place a dot every 2 inches with an air-soluble marker. Do this for all spools. Fold the ribbon into loose lengths after it has been marked so it does not tangle.
Step 5
Pick up a length of ribbon. Take the end and stick the needle through. Fold the ribbon and stick the needle through the dot you made 2 inches from the end. Fold again and look for the next dot. Run the needle through the dot. Continue to fold back and forth.
Step 6
Push the ribbon down the thread as you go. Keep the loops of ribbon close together on the thread.
Step 7
Add all of the lengths of ribbon.
Step 8
Tie a double knot at the end once all of the ribbon is on the lei. Do not snip off the extra thread. Take that thread and tie it to the other thread by the bead to close the lei. Snip the excess thread.
Step 9
Cut a length of coordinating ribbon and tie in a bow around the knot you made to cover it up. Add beads and crystals to the streamers of the bow for decoration.
Tip
Thread silk flowers on the thread in between the ribbon for a more decorative look.