Things You'll Need
3-4 lb. round or rump roast

1 can cream of mushroom soup

Potatoes

Carrots

Onion soup mix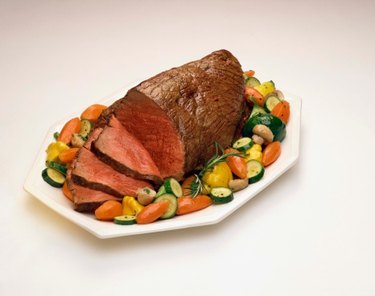 A Crock-Pot allows you to create a brilliant pot roast meal with minimal effort or supervision. Start up the pot before a long day at work and have a delectable meal ready with tenderness that you could never accomplish through traditional cooking. Add some vegetables like potatoes and carrots to make a Crock-Pot beef roast a full meal. The Crock-Pot will also fill your house with the wonderful smells throughout the cooking process.
Step 1
Place a skillet on the stove and turn the heat up to medium-high. Douse the skillet with a tablespoon of olive oil and turn it to distribute the oil over the surface. Brown the roast on all four sides for a few moments.
Step 2
Place the roast into the Crock-Pot.
Step 3
Peel the potatoes and cut them into chunks. The size of the potato pieces is up to you. They will cook in the Crock-Pot evenly regardless of size. Put the potatoes into the Crock-Pot. Spread them out around and under the meat.
Step 4
Slice the carrots to desired length. Deposit them into the Crock-Pot, spreading and mixing them with the potatoes.
Step 5
Pour the entire can of cream of mushroom soup over the roast.
Step 6
Add the dry onion mix on top of the meat and vegetables. Use a spoon to move it around, mixing it into the dish.
Step 7
Add salt and pepper if desired.
Step 8
Put the Crock-Pot on the low setting and allow the roast to cook for eight hours. Put the cover on top. Avoid removing the cover and letting the heat escape.
Step 9
Use two forks to shred the meat for serving. Use a slotted spoon to scoop up the meat and vegetables. Pour a little of the resulting gravy on top to complete the dish.
Tip
Experiment with other vegetables. Squash, mushrooms and asparagus are all great choices to add to the pot roast.
Use the gravy over mashed potatoes for a delicious side item. It is also great for dipping biscuits.
Warning
The low cooking setting will provide the most tender roast. However, in a pinch, use the high setting for four hours to cut cooking time in half.