Bread-and-butter pickles, also known as sweet and sour pickles, are an excellent topper for hamburgers and other sandwiches. They're sweet but not cloyingly so, and they make a wonderful snack. This easy recipe comes together in just a few hours (mostly inactive), and is a perfect summer condiment when cucumbers are in their peak season. If you're never tried making homemade pickles before, this is a quick, easy and satisfying recipe for beginners.
Things You'll Need
2 pounds kirby cucumbers


1 medium yellow onion


1/4 cup kosher salt


1 1/2 cups apple cider vinegar


3/4 cup granulated sugar


1 teaspoon ground celery seed


1/2 teaspoon ground turmeric


1 1/4 teaspoon whole mustard seed


Measuring cups and spoons

Cutting board

Chef's knife

Colander

Large sauce pot or Dutch oven
Step 1: Gather Your Ingredients
Kirby cucumbers are smaller than most cucumber varieties, and are sometimes packaged as "mini cucumbers." They're sold fresh with unwaxed skins, since waxing would interfere with the pickling process. They have fewer seeds than standard cucumbers.
Many bread and butter pickle recipes use much more sugar than is actually necessary. This version is sweet, but not overly so.
Step 2: Prep the Cucumbers and Onions
Slice the cucumbers thin, discarding the ends. There's no specific width you must aim for; visualize how thick you want your pickle slices to be. Try to cut consistent slices for even pickling. A good thickness to aim for is 1/4-inch. Slice the onions into thin half moons, discarding the root tip and skins.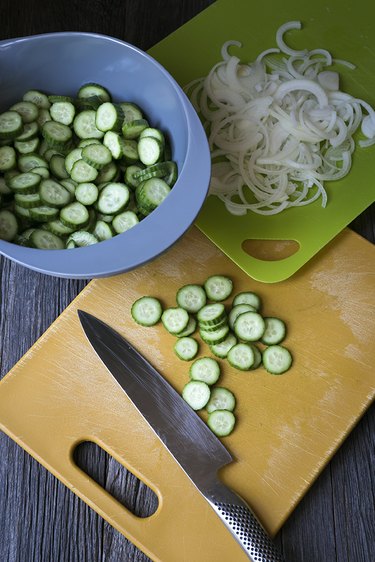 Step 3: Soak the Cucumbers and Onions
Place the cucumber and onion slices into a large bowl along with 1/4 cup salt. Add cold water to cover. Cover the bowl with plastic wrap or a clean dish towel, and allow to sit at room temperature for 2 to 3 hours. This will create a crisper pickle. Drain the cucumbers and onions through a colander, and rinse thoroughly.
Step 4: Bring the Vinegar and Spices to a Boil
In a large saucepan or dutch oven, combine the vinegar, sugar, celery seed, turmeric and mustard seed. Bring to a boil.
Step 5: Add the Cucumbers and Onions
Once the mixture is boiling, add the cucumbers and onions. Stir for 2 minutes, then remove from the heat. Place in airtight jars and store in the refrigerator for up to 2 weeks.