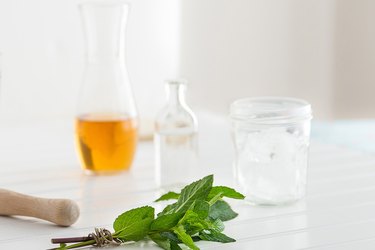 No matter if you're kicking back on a front porch or celebrating the Kentucky Derby, the mint julep is a cool choice when craving a warm weather cocktail. This drink, dating back to the early 1800s, packs a sweet, refreshing punch.
Step 1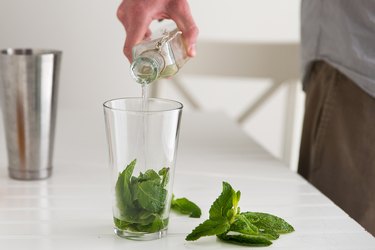 Place a handful of mint leaves at the bottom of a shaker and add the simple syrup.
Step 2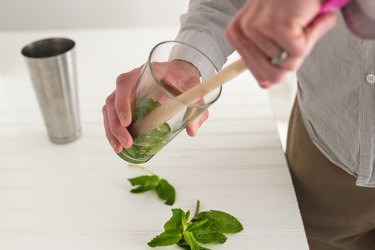 Using the muddler, press down on the mint leaves and syrup, and gently twist. Continue to twist until the fragrance of the mint leaves is released.
Step 3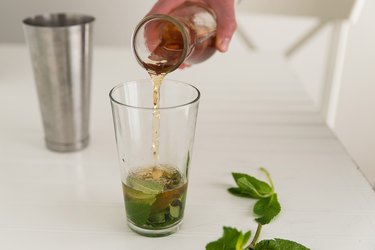 Step 4
Fill about half of the shaker with ice and let the mixture stand for a couple of minutes – this allows the bourbon to soak in the flavors of the mint.
Step 5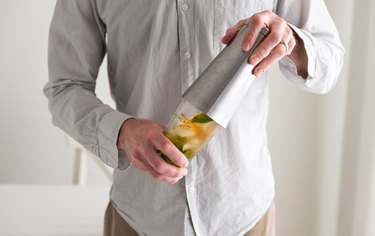 Step 6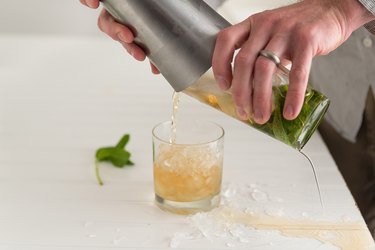 Strain the cocktail into a mint julep cup or rocks glass filled with shaved ice.
Step 7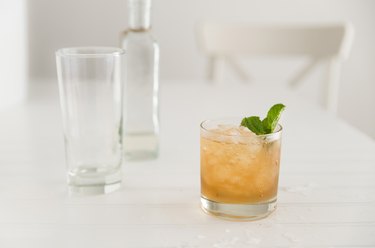 Garnish with a sprig of mint... and enjoy!
Things You'll Need
Serves one

Handful of fresh mint leaves

1 ounce simple syrup (see tips below for recipe)

4 ounces of bourbon

Shaved ice

Cocktail shaker

Cocktail strainer

Muddler

Silver mint julep cup or rocks glass
Tip
When muddling, be sure not to mash up the mint leaves too hard. Your mint might end up tasting bitter. You want your ice to be crunchy and slightly slushy – but not like a snow cone. An ice grinder can create the right consistency. Use the freshest of mint leaves. To make simple syrup, pour one cup of sugar and one cup of water in a saucepan and bring to a boil. Stir until the sugar dissolves. Let cool, and store in a glass container. Can be kept for up to two weeks.