Antioxidants cleanse your system of disease-causing free radicals, helping your immune system stay strong and keeping your cells functioning efficiently. Making a high-octane antioxidant smoothie is an easy way to have a meal high in these nutrients... and it only takes a few minutes. Simply toss superfoods in a blender for a delicious and super nutritious breakfast or snack.
This smoothie includes some of the most nutrient-dense antioxidant foods. Blueberries are high in Vitamin C, manganese, and fiber; beets are packed with Vitamins C and B, folate, and manganese; cranberry juice contains a great deal of Vitamin C and manganese; and green tea powder (also known as matcha) is high in Vitamin C, selenium, zinc, and magnesium. All of the ingredients combined result in a power-house elixir to boost the immune system and ease inflammation.
Things You'll Need
1 cup cranberry juice

1 cup cooked or raw beets, chilled

1 cup fresh or frozen blueberries

1 teaspoon matcha powder

5 large ice cubes
Step 1: Gather Your Ingredients
Assemble your favorite flavor combination.
Mixed berries and deeply colored vegetables such as beets, kale, and/or spinach are always a smart choice. Using 100% fruit juice helps make the smoothie sweet, while still maintaining health benefits, and incorporating unsweetened almond milk or coconut milk yields a creamier texture (plus these milks are lower in sugar than the fruit juice).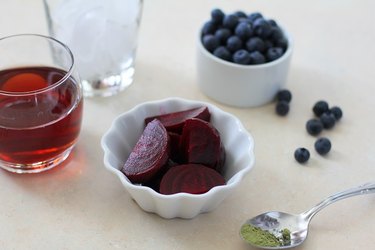 Step 2: Add Everything to a Blender
Add about one cup of liquid for every two cups of fruit and/or vegetables, along with some ice cubes, to a high-powered blender.
Tip
Add the liquid first, followed by the solids.
Step 3: Blend
Blend until completely smooth.
Pour into a glass and enjoy!
Tip
Foods that are high in antioxidants include, but are not limited to: cherries, cranberries, blackberries, blueberries, dark leafy greens, beets, green tea, chocolate, walnuts, and coffee. Discover your favorite combinations for antioxidant smoothies by experimenting with these flavors.