I'd love to take credit for this recipe, it is the best sangria I've ever had, including the sangria I had in Spain. It has a cult following among those who have had it, and it's the most requested recipe for sangria I've ever seen. The credit for this recipe goes to my sister, and the years she spent drinking, tweaking, and serving it at parties, showers, housewarming and backyard cookouts. It's hardly a summer party without it. Make sure to keep the link to this handy because once you make it you'll never make it another way again!
Things You'll Need
3 large ripe peaches, sliced

1 bottle white wine (Pinot Grigio preferred)

2 tablespoons white sugar

8 ounces peach nectar (such as Kerns peach nectar)

4.5 ounces peach schnapps (3 shots)

2 cups frozen, sliced peaches
Step 1: Slice the peaches and add to a serving pitcher.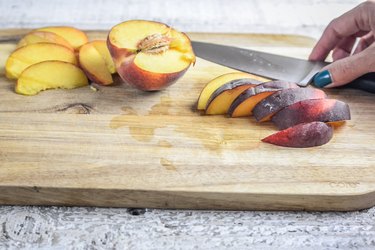 Step 2: Add the remaining ingredients (other than the frozen peaches).
Stir in the wine, sugar, peach nectar, and schnapps.
Step 3: Refrigerate overnight, 12 to 24 hours.
This is an important step in developing the flavor, don't skip it!
Step 4: Add frozen, sliced peaches.
Frozen peaches will help to keep the sangria cold without watering it down!