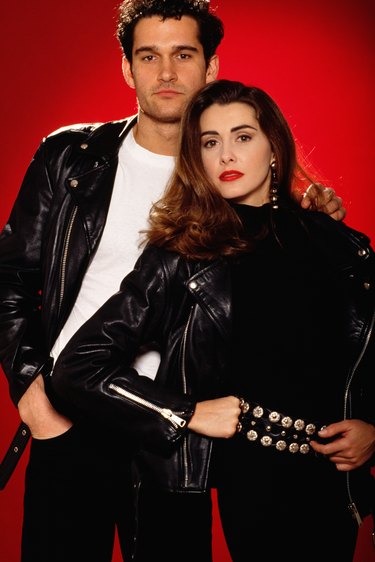 If you want to wow everyone with a unique and recognizable outfit for the upcoming costume or Halloween party, then look no further than Olivia Newton-John. She is a fashion icon who – for decades – has worn various outfits for her movie and music career. This means you have a few different options when it comes to dressing up as Olivia Newton-John.
Sandy from Grease
Olivia Newton-John's most memorable movie was undoubtedly Grease, in which she starred as Sandy, a good girl who falls in love with John Travolta's bad boy Danny. While she wears many different 50s-style outfits throughout the film, her cheerleading getup is one of the most iconic and easiest outfits to re-create. The outfit consists of a white sweater with a red megaphone behind a large red letter "R" to symbolize Rydell High, where Sandy went to school. Since the movie takes place in the 1950s, the red pleated skirt is rather long and stops a little below mid-calf. For a more authentic look, sew a red Peter Pan collar onto the white sweater. You can, however, skip this step and still have a great costume. Sandy wore her hair up in a peppy ponytail secured with a bow made from red ribbon and kept her makeup simple. Her footwear was also simple: white bobby socks and a pair of white plimsolls. And don't forget one red and one white cheerleading pompom to complete the look.
Greaser Sandy
Toward the end of the movie, Sandy changes her entire appearance and attitude to match that of her love Danny. During the end-of-school carnival, she shows off her new look wearing a black off-the-shoulder cap-sleeve shirt, skintight black pants, mule-style heels and a black leather jacket with the collar turned up. She accents it with hoop earrings and red lipstick. While the outfit is an important part of this costume, it is Sandy's bad girl attitude that really sells it. While wearing this costume, chew gum, stick your chest out a bit and swing your hips. Rock the outfit like any greaser would!
Kira in Xanadu
Xanadu is the story of a muse named Kira – played by Olivia – who is one of the nine daughters of the god Zeus. Kira's job is to inspire people, and she roller-skates around Venice Beach looking for someone to help. While most critics of the movie focus on the campiness of this over-the-top movie, fans rejoice over the soundtrack and stunning clothing that are at the center of the film. Kira wears a vintage Gunne Sax-style pink dress, a pair of 70s/80s-style roller skates and white leg warmers. Her blonde, curly hair falls to about shoulder length and pink ribbons flow down the right side of her hair. Kira's makeup includes pinkish lipstick and a lot of blush.
Let's Get Physical
Olivia Newton-John isn't only an actress – she's also a singer and songwriter who has released numerous albums. Her most successful album, Physical, was released in 1981, and the title track was a big commercial success. Its rather racy video, filled with the hottest fitness outfits available in the 80s, can be easily re-created for your Halloween or costume party. Pink or purple Lycra tights worn underneath a high-cut pink leotard make the ideal base for the costume. If you cannot find these items in pink or purple, don't worry. You can simply wear any bright colored tights and leotard, even if they don't match. Take an old oversize sweatshirt and cut it off at waist level. Then carefully cut the neck out of it and the arms off. Put on a pair of leg warmers and running shoes, and wear a braided headband to pull the outfit together.