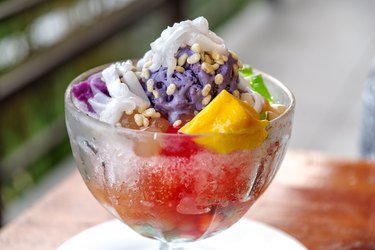 Fruit salad with condensed milk is one of those dishes that every Filipino family prepares a little differently. Recipes are handed down from mother to daughter, from grandfather to grandson, with a little extra this or a little less of that, but the basics remain the same. Canned fruit salad is the star of the dish. Filipino fruit salad is perfect on a hot day — it goes together quickly and serves as a cooling side or dessert.
Classic Filipino Fruit Cocktail Salad
The simplest Filipino fruit salad has four ingredients and a garnish. Start with chilled ingredients so the salad will be ready to eat, or refrigerate for several hours until the salad is cold.
Drain canned fruit cocktail and canned peaches. Combine them in a bowl. In a separate bowl, beat together sweetened condensed milk and table cream. Pour the cream mixture over the fruit and stir well. Garnish with a maraschino cherry and chill, covered, until it's time to serve.
Tip
If you can't find table cream at your supermarket, whipping cream will work.
For a more complex salad, add canned pineapple, papaya, lychee, or other tropical fruit and shredded coconut.
Drain off as much of the canning liquid as possible.
Fresh Filipino Fruit Salad
Cut two peaches and a green apple into cubes. Put them in a bowl with thinly sliced coconut and cubed pineapple. Whisk together table cream and sweetened condensed milk and pour it over the fruit. Add sweetened nata de coco, a jellied food made from fermented coconut water, and mix. Chill for an hour before serving.
Add other fresh tropical fruits such as mango, star fruit and papaya.
Fruit Salad With Canned and Fresh Fruit
Soften a package of cream cheese and stir in sweetened condensed milk. Drain and combine canned fruit salad, canned peaches, pineapple pieces and mandarin oranges. Add a peeled, cored and diced Granny Smith apple. Fold the fruits into the cream cheese mixture. Serve on a bed of lettuce garnished with walnut halves, shredded coconut and maraschino cherries.
Add fresh tropical fruits like kiwi, starfruit and mango if desired. Bananas aren't typical in Filipino fruit salads, but if you choose to use them, first slice them into a bowl with citrus juice to keep them from browning. Use a slotted spoon to scoop the slices out of the juice before adding them to the salad.
Filipino Macaroni Salad
Filipino macaroni salad is another dish with ingredients that vary from family to family, but fruit is a constant in every recipe. Crushed pineapple and raisins are combined with cooked elbow macaroni, cooked carrot and processed cheese. The salad is dressed with mayonnaise mixed with sweetened condensed milk, salt and pepper.
Add-ins include shredded cooked chicken, cubed ham, chopped hard-boiled eggs and sweet pickle relish.
Canned Food in the Philippines
Filipinos were introduced to canned food after the Spanish-American War at the turn of the 20th century. Canned goods, called delata in the Philippines, were shipped to the American colonizers, and the Filipinos enthusiastically incorporated them into their cooking.
Spam is the star of Spamsilog, a breakfast dish with rice and eggs. Vienna sausages are chopped and added to rice. Canned corned beef is fried with onions, and sardines are usually canned with tomato sauce. Pepsi is poured over cooked rice.
Filipino food is by no means limited to canned concoctions. Bad Saint, a Filipino restaurant in Washington, D.C., was ranked the "number two new restaurant" in the country by Bon Appetit magazine. Spit-roasted pig, called lechon, and adobe, marinated meat, are prepared with nary a can in sight.