I wouldn't consider myself a baker by nature, therefore most of my desserts tend to be super easy and don't require an oven. I would however consider myself a chocolate enthusiast and want a little bite of chocolate after dinner most days. Sometimes though, I need something a little more decadent, and that's where my chocolate mousse comes in. This mousse is so light and airy and will fulfill all of your chocolate cravings in just one bite... although you will want to eat the whole bowl! This recipe will be your new favorite chocolate dessert and is perfect for a cool summertime treat.
Things You'll Need
4 ounces chocolate, roughly chopped (I used semi-sweet)

1 tablespoon espresso or strong coffee (leftover from your morning pot works great)

1 pinch salt


3/4 cup heavy cream

1 tablespoon granulated sugar

3 egg whites
Step 1: Melt Chocolate
Create a double boiler by taking a small saucepan with an inch of water in it and then placing a glass bowl that is slightly bigger (so that the bottom of the bowl doesn't touch the water) on top of the saucepan. Place chocolate and espresso inside the glass bowl and bring water to a boil.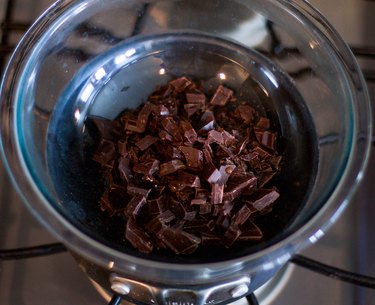 Step 2: Stir Chocolate Until Smooth
Stir the chocolate over the heat until smooth and creamy. Turn off the heat on the stove, and leave the melted chocolate over the warm water. Set aside.
Step 3: Beat Egg Whites
Place egg whites in a stainless steel mixing bowl and beat on high for 3 to 4 minutes or until soft peaks have formed.
Step 4: Fold Eggs Into Chocolate
Remove chocolate from over the saucepan and gently fold the egg whites into the melted chocolate.
Step 5: Whip Heavy Cream
In a cold bowl, add the heavy cream and beat on high until firm peaks have formed. Add sugar in at the last minute or so of beating to sweeten the cream. Add 3/4 of the whipped cream into the egg whites and chocolate and gently fold together. Reserve the remaining whipped cream for topping in the refrigerator.
Step 6: Refrigerate the Mousse
Once the whipped cream is combined well with the chocolate and egg whites, portion out the chocolate mousse into individual containers and refrigerate for at least an hour to let the mousse set.
Step 7: Top with Extra Whip Cream
After the mousse has chilled and set, top with extra whipped cream and shaved chocolate on top. Serve immediately.
This chocolate mousse looks fancy, but it is super easy to whip up and tastes so yummy too!