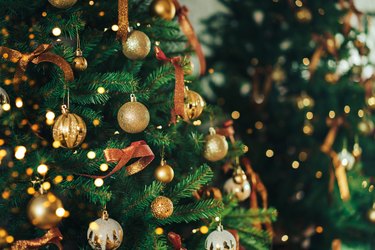 One of the most tedious and potentially time-consuming aspects of decorating for Christmas can be setting up the lights, which is why a light bulb checker for Christmas lights can be so helpful. Sometimes, a single bulb can go out, resulting in the entire string going down. Even if not, missing twinkle lights are unsightly and prevent your tree from being beautifully and evenly lit. Learning how to make or buy a Christmas light bulb tester can save you trouble.
Make a Christmas Tree Mini Light Tester
It's simple to make your own Christmas tree bulb tester. First, take an old, empty pill bottle or a plastic container and remove the cap or lid. You might also wish to remove labels if they contain personal prescription information. Drill two holes on the other end of the bottle and then enlarge them using a Xacto knife. If using a plastic container, you can just leave the top off until assembly is complete.
Next, you will need two pieces of lead wire (wire used to connect an electrical pole or component to whatever it is powering). Using electrician's tape, attach the lead wire to the top of a C or D battery (the positive end). Do the same with the bottom end of the battery, i.e., the negative end. Leave at least a few inches of wire on each lead; you'll use these as part of the tester. The battery should now have two lead wires attached to each end, much as a two-prong plug functions.
Insert the battery into the pill bottle or plastic container push the lead wires through the holes. Secure them in place using more black electrical tape. If using a plastic container, you can put on the lid now. These lead wire prongs should be small enough to fit precisely onto the wires of the individual bulbs you'll be testing. On a bulb like this, there are very small wires at the base; you can unfurl these and use them to connect to the lead wires on your tester.
Using Your Christmas Tree Bulb Tester
Next, you will use this tiny power source that you have created to test your bulbs. Gently unwrap the metal wire on the base of your light bulb. These wires will be quite small, but you should be able to unwind them so you have enough length to touch them to your tester's lead wires. Wrap the wires together with care, then take note if the bulb lights.
If they do, then they're still good to go for this year's decorations. If not, then they should be disposed of and replaced.
Christmas Light Checkers for Sale Online
Of course, if you aren't handy or don't feel like putting in the effort to make your own bulb tester, you can purchase one online relatively inexpensively. Many models you'll find online are quite straightforward and designed specifically for Christmas lights. Alternatively, if you want a tool that you can use in the future for other purposes, you can find more general multi-testers.
In addition, most hardware stores should sell a range of of electronic multi-testers or voltage detectors, as they're relatively common tools. If you're unsure how to use one to test Christmas tree light bulbs in particular, ask a sales associate to show you or review the instructions from the manufacturer.
What if Lights Go Out After They're Strung?
Lights going out after they're strung on a tree or outdoors is one of the biggest headaches of the holiday season. If this should occur, the first thing to do is inspect the string of lights, including the wires, and see if you can find the source of the dysfunctional bulb. If so, try repairing it by removing the defective bulb and putting a new one in its place (these usually snap into place on light strands). If not, you might need to test each bulb again as outlined above.
Your other option is to string a new set of bulbs. While repeating the work is unpleasant and tedious, you'll be able to enjoy the look of your decorations throughout the entire season.