Homemade spicy taco sauce is quick and easy to make, and adds a great deal of flavor to your tacos. Most (if not all) of the ingredients required for this simple sauce are probably already in your pantry, and all you need is 5 minutes of prep time. Other than its big flavor, the beauty of this sauce is you can use it to drizzle on top of your tacos (or nachos!), or you can use it for cooking your taco meat. Simply cook up some ground beef, turkey, or chicken with some of the sauce and you're in for a fool-proof, consistently delicious meal. For those who are spice-averse, the recipe can be easily adjusted for a milder spice level, and those who love their food fire-like on the spice scale, you can add more heat according to taste
Things You'll Need
6-ounce can tomato paste, (1)


1-1/4 cups boiling water

2 tablespoons cider vinegar

2 large cloves garlic, finely minced

2 teaspoons onion powder

2 teaspoons ground cumin

2 teaspoons chili powder

1 teaspoon smoked paprika

3/4 teaspoon sea salt, to taste

1/8 to 1/2 teaspoon ground cayenne pepper, to taste
Tip
For a mild sauce, omit the cayenne pepper.
For a very spicy sauce, add fresh jalapenos or a habanero to the recipe. To do so, add all of the ingredients to a high powered blender along with your choice of chili(s) and blend until smooth. Include some (or all) of the chili seeds for an ultra spicy experience.
Step 1: Gather Your Ingredients
Put a kettle of water on the stovetop and heat to boiling. While water is heating, measure out all of the ingredients.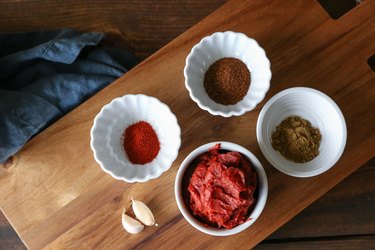 Step 2: Combine Ingredients in a Pot or Bowl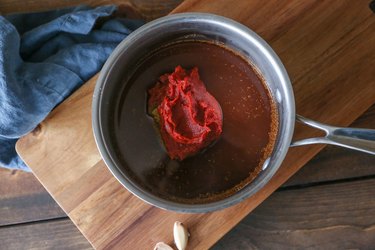 Whisk well until completely combined and a smooth, thick sauce results. If desired, heat the sauce on the stove top to a boil, reduce the heat, and cook at a simmer for 15 minutes to allow flavors to come together (this step is not necessary, but results in richer flavor). Taste the sauce for flavor. If more heat is desired, add more cayenne pepper and/or vinegar. For a sweeter taco sauce, add a teaspoon or two of cane sugar or honey. Add sea salt and/or spices to taste until desired flavor is reached.
Step 3: Use or Store
Either use taco sauce immediately or transfer to a sealable container for storage. Allow sauce to cool before sealing and refrigerating. Sauce will stay fresh in a sealed container for up to 2 weeks.