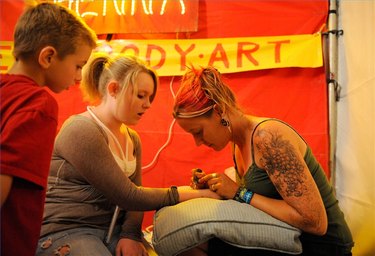 How to Make a Henna Applicator. There are as many ways to apply henna as there are artists who use it, although some methods are more popular than others. Many types of henna applicators produce beautiful results, but the best will come from finding an applicator that works for you.
Step 1
Fill a plastic squeeze bottle to use it as a henna applicator. These can be found in craft or hardware stores and come in different sizes for easy use. Some stores even sell a range of tip sizes to attach to these bottles.
Step 2
Brush the henna on. A brush is the best applicator for large, blocky designs.
Step 3
Try a traditional henna cone. This kind of applicator can be purchased pre-filled or empty. It is also possible to make. Many people prefer use their own special size and materials to create one.
Step 4
Use a syringe to apply your henna. A syringe works best for for really delicate designs and ensures a steady application.
Step 5
Cut a plastic storage bag and use one corner to form a cone. Some prefer to simply fill the bag with henna and cut a tiny opening in one corner so that the bag itself becomes the application tool.
Tip
When using a cone, its important to push the henna inside down as you work, keeping the cone firm and easier to hold. Sometimes, a rubber band can be used to accomplish this. For best results, only fill the henna cone up about 2/3 of the way full. This gives you plenty of room to close off the top.