Things You'll Need
Plastic storage box

Damp cloth

Moisture-absorbing packets (optional)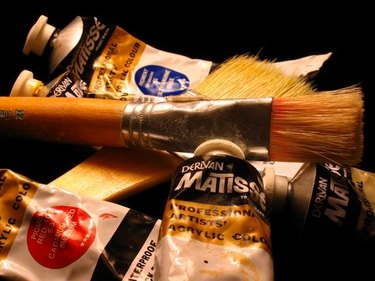 Acrylic paints offer bright, vibrant colors and easy use for beginning painters. You need to store your acrylic paints properly so that they don't go bad. Storing acrylic paint under the appropriate conditions will keep your colors true, maintain a smooth paint consistency and make your acrylic paints last longer.
Step 1
Wipe all of the paint from the edges of every bottle, tube or jar of acrylic paint. Leaving paint to dry on the edges can make the lid stick, cause "clots" to form in the paint and prevent the lid from sealing correctly.
Step 2
Dry the edges of the acrylic paint bottle, jar or tube. If you used a damp rag to wipe the bottle clean, make sure that the edge is dry before storing it. Water can introduce bacteria and other elements that may discolor or change the texture of the acrylic paint.
Step 3
Close the lids of each acrylic paint tube, bottle or jar. Make sure that each one is tightly sealed and secure so that air can't seep in through the cracks while the paint is stored.
Step 4
Place each of your acrylic paints into an airtight plastic container. Make sure that the container is clean and dry before sealing the lid.
Step 5
Place the box in a location where it will not be exposed to tremendous variances in temperatures. Extreme cold or extreme heat can alter the textures of the paint, causing undesirable clumps or excessive moisture. A kitchen or pantry cabinet is often suitable, as is a linen closet or under a bed. Avoid storing any art supplies in the garage or shed.
Step 6
Add a few moisture-absorbing silicone packets to the box if you live in an environment with humidity.
Tip
Dry your paintbrushes before storing them, so that the moisture doesn't cause mold or mildew. A baby's disposable diaper will absorb moisture and offers padding, so that glass paint jars don't break in storage.