Things You'll Need
Christmas tree

Small hand saw

Christmas tree stand, metal
Christmas is such a festive time, but it's not Christmas without the tree with the smell of fresh pine in your living room, the needles and the sap. It's all part of this joyous time of year. Picking out the tree can be a fun tradition, but keeping that tree fresh and green throughout the holiday season can be a chore.
Step 1
Now that you and your loved ones have picked out the perfect tree and gotten it home, you are ready to put it up. First you need to cut the bottom of the tree to remove any sap that has coagulated there. This will allow the tree to take in water.
Step 2
Using a small hand saw, cut about 1 1/2 to 2 inches off the bottom, at a slight slant. Making sure to remove any sap, sawdust or bark that is hardened there.
Step 3
Place tree firmly into the tree stand, making sure that metal tines in the bottom of the stand have pierced the bottom of the tree. Fill the stand with warm water and a 1/4 cup of Karo syrup, as this will provide nutrients to the tree, keeping it green and fresh longer.
Step 4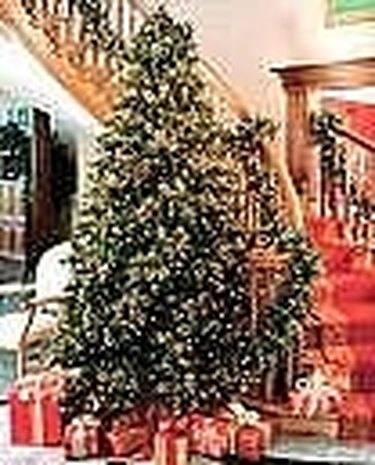 The tree will take in water daily, so make sure stand is always full.
Warning
Do not remove bark from the tree trunk.