Things You'll Need
Paper

Pen or pencil

Something to color it in with (optional)
Have you ever wanted to draw a rose but didn't know where to begin? Or you wanted to draw a classic tattoo style rose, but it seemed too difficult? Here is a step by step way to do it to make it very simple. By the end of this article, you will be drawing roses everywhere!
How to Draw a Classic Tattoo Style Rose
Step 1
First you will draw the bud. Just follow the picture exactly for this first one. Very simple lines.
Step 2
Finish the bid by drawing the inside and center of the flower. Draw it exactly as in the diagram. Keep in mind that a rose's center will wrap around-like a scroll.
Step 3
Drawing the petals. Now the fun begins, and also the part which frustrate many people. Let's keep it simple. Use only 2 petal shapes. In the diagram, these are red--one is like a soft leaf shape with one point outward, the other is like the top part of a heart, two soft rounded edges. Try to imagine these as having that velvety rose texture. Repeat the 2 patters, one after the other all the way around.
Step 4
Adding leaves. Don't add too many, this is also a mistake that is made. Follow the diagram and start with 3 leaves.
Step 5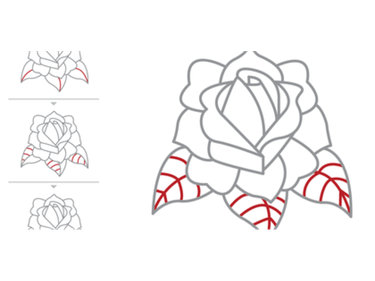 Leaf texture. Draw a line down the center of each leaf. Then draw the veins symmetrically as in the diagram
Tip
Keep it simple! You can add color! Photoshop is great for this.