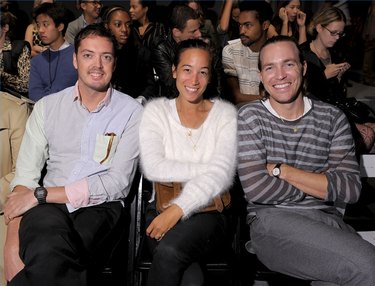 How to Get Stains Out of Cashmere. Cashmere comes from goats living in the high and dry plateaus surrounding the Gobi Desert of Mongolia and China. Cashmere can be a tricky material to work with. Follow these steps to clean stains out of knit cashmere fabrics.
Step 1
Treat stains as soon as they appear. Use cold water and a stain remover like Zout.
Step 2
Allow the stain remover to penetrate the stained area. Don't rub it.
Step 3
Wash the entire garment in cold water, using a hair shampoo or a mild detergent like Woolite. Mix the soap and water before placing the cashmere in the sink.
Step 4
Squish and press the soapy water through the garment. There's no need to pay special attention to the stain. Keep the garment in a ball or lump.
Step 5
Press as much water out of the cashmere as possible. Lay it on a towel and roll it up. Press the water out of it. Don't twist it up.
Step 6
Lay the sweater on a dry towel to dry. Place it exactly the way you want it to dry.
Tip
Make sure to clean the sink before washing your cashmere in it. Use a plastic bin to clean your cashmere. Bring your cashmere to a dry cleaner if you're not comfortable cleaning the stain.
Warning
Don't hold up or hang up a wet cashmere garment. It will become stretched out. Don't twist or rub the cashmere when cleaning. You'll damage it.