Things You'll Need
Flannel fabric (about 2 yards)

Sewing machine (optional)

Straight pins

Sewing needle

Coordinated thread

Chalk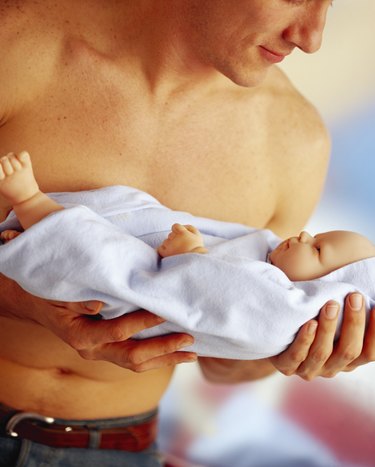 Flannel is a soft and cozy fabric, perfect for swaddling a baby's delicate skin. Create beautiful blankets from two layers of flannel fabric for an extra warm winter blanket. Use a solid-color flannel for one side of the blanket and a brightly patterned flannel for the other. You can help to stimulate a young infant's senses by using fabric with a black and white or contrast pattern, or make a blanket with colors and patterns that coordinate with the baby's nursery.
Step 1
Cut a 36-inch square from the patterned flannel fabric. Cut a second square of the same size from the solid colored flannel.
Step 2
Lay the two squares on top of each other with the good sides of the flannel facing inward. Align the edges and pin them together.
Step 3
Sew a simple stitch all the way around the outer edges to join the flannel layers together. Leave a 5-inch section of fabric open. Pull the blanket through the open section to turn the layers of flannel right side out.
Step 4
Draw a line with a piece of chalk all the way around the outer edge, about 1/8 inch from the very edge. Draw another line about 3/8 inch inward from the first line.
Step 5
Sew a decorative cross-stitch between the lines. Start at one corner on the outer line. Sew a zigzag stitch all the way around the blanket. When you are finished, begin at the same starting corner on the inner line and sew another zigzag stitch all the way around the blanket to make miniature diamond shapes. The decorative stitching will seal the 5-inch open gap.