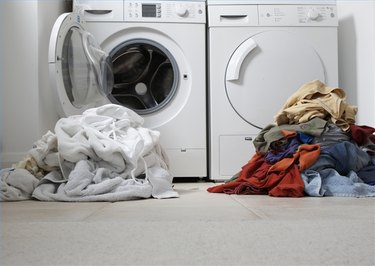 How to Wash Whites. When we think of washing whites, the image that comes to mind is of white-cotton sheets, towels or socks. These have always been the light-colored workhorses of homes and wardrobes everywhere. Whites these days, however, can mean the sheerest white linen or silk, as well as white uniform clothing. From natural to high-tech synthetic fabrics, white clothing and linens need the right care in order to look great.
Clean Delicate Whites
Step 1
Gather delicate, white items, such as sheer blouses, shirts or undergarments.
Step 2
Review the care tags to make sure the items are washable. Note whether machine or hand washing is suggested, as well as the recommended wash temperature and drying method.
Step 3
Machine wash most delicate whites in cold water. Adjust the water level and set the machine for gentle or delicate.
Step 4
Hand-wash delicate undergarments or items specifically labeled "hand-wash only." Dilute a small amount of soap in a tub or bucket of cold water, and then dunk and rinse your clothes under running water.
Step 5
Dry delicates on low or by hanging them to dry. Check the labels.
Wash Regular, White Cottons and Synthetics
Step 1
Place white clothes labeled for warm-water washing in a machine. For instance, a cotton shirt and Tencel blouse can be washed at the same time. Set the machine on warm and normal or gentle operation.
Step 2
Use topical-stain lifter or pour bleach into the machine as directed. Do this only if it is appropriate for the fabric of all the grouped items.
Step 3
Dry cottons on high and synthetics on medium or low. Alternatively, you can place them all together in the dryer and take the synthetics out as soon as they are done.
Clean White Towels, Sheets and Socks
Step 1
Gather white towels, sheets and socks that can tolerate hot washing. Check the labels if you're not sure.
Step 2
Wash items that are prone to mildew, fungus and mites in hot water. Adjust your water level for the correct volume and set the machine for normal operation.
Step 3
Add a whitener to your detergent, if desired, according to package instructions.
Step 4
Dry all of these items on high heat, or dry the sheets separately if you don't want excess towel lint on them.
Tip
Use bleach according to the package directions, but don't use it on delicate items. To clean delicate, white sweaters, hand wash them or take them to the dry cleaner.
Warning
Do not wash reds with whites, unless you really enjoy pink.