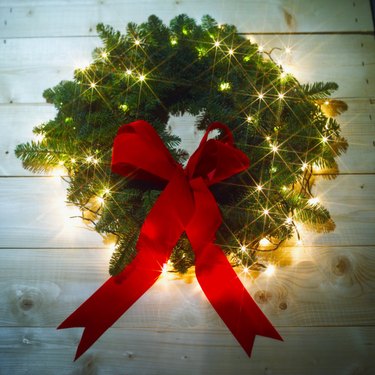 Lighted wreaths create an elegant glow that can transform any home into an instant winter wonderland, but they can cost a lot more money than their plain, standard counterparts. If you have a few plain wreaths hanging around your storage space, give them a makeover by wrapping them with lights yourself. Once finished, your newly wrapped wreaths can add to your festive decor inside or out.
Dust and Prepare Your Wreath
If your wreath has been stored, unpack it and brush off any cobwebs or dust. You might see torn berries, broken pine cones or scraggly looking bows. Cut off any worn or weathered sections using scissors, and discard them. Cover your work table with newspaper or a drop cloth, and place your wreath on the table so you can work on it easily.
Secure the Plug
Choose a string of holiday lights that have a wire roughly the same color as your wreath. Measure the distance between the electrical outlet and the place along the same wall where you want the wreath to hang. Mark the measured length along the string of lights starting at the plug. Attach the marked area to the bottom of the wreath using a similarly colored twist tie or craft wire. The plug should hang loosely from the bottom of the wreath.
Wrap the Lights
Roll up the string of lights into a ball, carefully keeping the attached plug section in place. Insert the wound ball through the hole of the wreath and wrap the lights around the outside edge. Insert the ball of lights back through the hole again, winding in the same direction the whole time, and continue to repeat this pattern around the entire wreath. As you wind the lights, try to move across the wreath so you cover all the areas around the circle evenly. Attach the end of the string of lights to the wreath using a twist tie or craft wire.
Disguise the Wire
Fluff out the greenery around the wreath to help disguise any exposed wire. If you want, hot glue on new artificial berries, bows and pine cones to further embellish the wreath and disguise any wiring, taking care not to get hot glue on the wire.