Anyone who enjoys a cold breakfast but needs to be careful about consuming heart-healthy foods, this recipe is for you. Heart-healthy foods include those that are either low in fat, or contain heart-healthy unsaturated fat such as nuts, nut butters, olive oil, grapeseed oil, and seeds, berries, and oats. Combining ingredients like walnuts, almonds, flax seed, oats, and pumpkin seeds to make granola results in a delicious and nutritious treat. Using unrefined sugar, such as coconut sugar, pure maple syrup, or honey as a replacement to cane sugar amplifies the health benefits of granola by minimizing the spike in blood sugar. This simple recipe is perfect for those who follow a gluten-free diet, looking to add plant-based protein to their diet, and those looking to boost their intake of unsaturated fat.
Things You'll Need
1 tablespoon ground flax seed

3 tablespoons water

1/2 cup olive oil, avocado oil, or grapeseed oil

1 teaspoon pure vanilla extract

1/2 teaspoon almond extract

1/3 cup pure maple syrup

3 cups gluten-free rolled oats (see note)*

1/2 cup raw walnuts

1/2 cup raw almonds

1/2 cup pumpkin seeds

1/2 cup unsweetened shredded coconut

1 cup dried cranberries

1 teaspoon ground cinnamon

1/2 teaspoon sea salt
Tip
*You can use regular rolled oats as long as you don't need to restrict gluten from your diet. Avoid using quick oats.
Step 1: Make a Flax "Egg"
Preheat the oven to 325 degrees Fahrenheit. Prepare a flax "egg" (i.e. egg replacer) by combining the ground flax seed and water in a small bowl. Allow the mixture to sit, stirring occasionally, until it thickens to the consistency of an egg.
Step 2: Gather the Dry Ingredients
Measure out the oats, nuts, and seeds.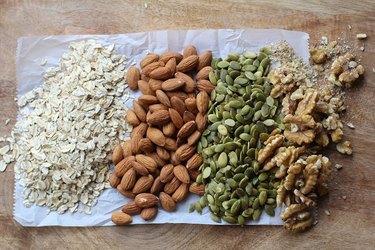 Place the almonds and walnuts in a food processor or blender and pulse a few times, just until the nuts are coarsely chopped. As an alternative, you can carefully chop the nuts using a sharp knife.
Add the chopped nuts, oats, pumpkin seeds, shredded coconut, ground cinnamon, sea salt, and pumpkin seeds (all the dry ingredients) to a large mixing bowl and stir well.
Step 3: Pour in the Wet Ingredients
Whisk together the oil, pure maple syrup, vanilla, and almond extract. Pour this mixture into the bowl with the oats and nuts, along with the flax seed "egg." Stir well until everything is well coated.
Step 4: Transfer to a Baking Sheet
Line a large baking sheet with parchment paper, and pour the granola mixture onto the lined baking sheet. Use your hands to press the granola mixture into the sheet, creating an even layer.
Step 5: Bake the Granola
Place the sheet of granola on the center rack of the preheated oven and bake for 35 to 45 minutes, or until the edges are golden-brown. Remove the granola from the oven and allow it to sit for one hour - this allows the granola to set up and makes for large granola clusters.
Transfer the cooled granola to a large zip lock bag or jar for storing. Store granola for up to 10 days. Enjoy with fruit, yogurt, and/or choice of milk.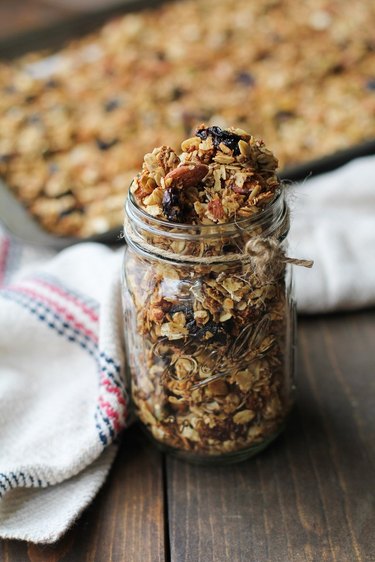 Other Tips
1. The raw walnuts and almonds can be replaced with virtually any nut. Consider using cashews, pecans, or pistachios.
2. If using honey instead of pure maple syrup, be sure to watch the granola carefully while it's baking, as honey has a lower burn temperature than pure maple syrup. Check on the granola after 25 minutes, and keep a close eye every couple of minutes.
3. You can also use rice syrup, coconut sugar, or agave nectar as the sweetner for this recipe
4. The dried cranberries can be omitted or replaced with any dried fruit, such as blueberries, raisins, strawberries, etc. Just be sure to avoid using sugar-sweetened dried fruit -- instead use juice-sweetened dried fruit.
5. Pumpkin seeds can be replaced with raw sunflower seeds or omitted entirely.
6. You can replace the flax "egg" with one egg white. If you choose to go this route, beat the egg white until very frothy. You'll need to store the granola in the refrigerator in order to avoid spoilage.