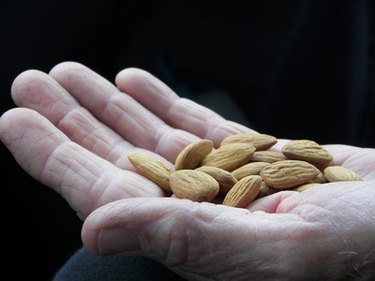 Almond paste is a sugary paste that often combines ground almonds, glycerin and sugar. Depending on the brand, it may also have ingredients like eggs or almond extract. Almond paste is used in many confections, including bear claw pastries, biscuits, buns and various European delicacies. However, some traditional grocery stores and general stores do not carry almond paste. Create an almond paste substitute with marzipan, shortening, corn syrup, almonds or another type of nut.
Marzipan
Marzipan is a sweet substance that is extremely similar to almond paste in its consistency because it often consists of almond paste or meal. There is sometimes confusion as to whether marzipan and almond paste is the same substance, but usually marzipan consists of much more sugar and it is easier to roll. It is used more often for decorating and molding.
Mock Marzipan
Mock marzipan is similar to the consistency of almond paste and marzipan but without almonds or any other kind of nuts. White vegetable shortening is combined with light corn syrup, confectioner's sugar and a flavoring extract of the cook's choice (which could be almond extract). This recipe is ideal for an almond paste substitute for those with almond allergies.
Almonds and Sugar
If you do not have pre-made almond paste, a homemade approximation may suffice. Grinding ¼ cup of blanched slivered almonds together with 1 tbsp. of sugar will substitute for 3 tbsp. of almond paste. A similar substitution adds an egg to 1 ¾ cup of ground almonds, 1 ½ cups of powdered sugar, 1 tsp. of almond extract and ¼ tsp. of salt. Other recipes for almond paste also include orange juice.
Other Nuts
Recipes for marzipan and almond paste can be created with other nuts if almonds are not readily available. The consistency will be decidedly different, but creating the recipe with an equal amount of cashews, walnuts or pecans may be close enough for your recipe.