Gooey, cheesy potato casserole -- it's a classic comfort food. And with a few fresh updates like crispy bacon and fresh rosemary, this still-simple version takes all the flavors you've always loved to a whole new level.
Things You'll Need
1 package frozen hash browns (30 to 32 ounces)

1 medium/large onion, finely chopped

2 cups shredded cheddar cheese

1 teaspoon salt

1/2 teaspoon pepper

1 tablespoon fresh rosemary, finely chopped

1 teaspoon garlic powder

1 1/2 cup half & half

2 cups sour cream (or plain yogurt)

3 to 4 strips cooked bacon, crumbled

2 cups cornflakes, crumbled

3 tablespoons butter, melted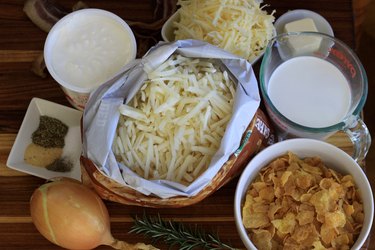 Prep the Oven and Ingredients
Preheat oven to 350 degrees F.
Combine the chopped onion, cheese, rosemary, salt and pepper, garlic salt, half and half, bacon, plus sour cream into a large bowl and stir to incorporate.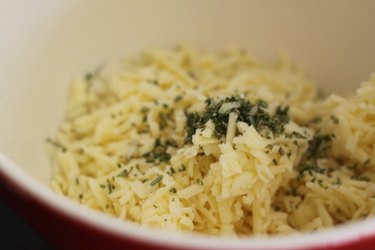 Tip
Use plain yogurt instead of sour cream for a more nutritious meal.
Pile on the frozen hash brown potatoes and stir again.
Spread the potato and cheese mixture in a lightly buttered 9 x 13 inch pan.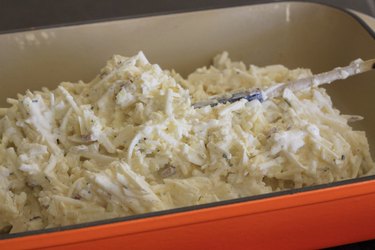 Prepare Crispy Topping
Combine the crushed cornflakes with melted butter in a small bowl.
Tip
Add a little cayenne pepper to this mixture for a big boost of spice.
Sprinkle your topping evenly over the entire casserole dish.
Cover and bake for 30 minutes. Uncover and continue baking for 30 minutes. The top should be crispy and just starting to brown at the edges.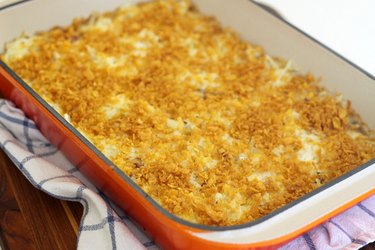 More Easy-to-Make Casseroles to Try