With just two ingredients and 5 minutes of active time, you'd be hard pressed to find a quicker or easier DIY. The results are so beautiful that you may never go back to store bought vanilla extract again. Buy vanilla beans in bulk online to make your project inexpensive and to provide you with enough vanilla to give as gifts. After all, it is vegan, gluten-free, and something every home baker uses.
Tip
To buy vanilla beans in bulk, check online for the best places to buy such as like The Spice House or Amazon.
Things You'll Need
2 vanilla beans

4 ounces vodka


Glass jar with a tight lid
Step 1: Slice the Beans
Cut the vanilla beans in half to better fit your jar, then slice lengthwise to open the pod.
Step 2: Add to the Jar
Place the beans in the storage jar, making sure they will still fit once the lid is replaced.
Step 3: Add the Alcohol
Add the vodka to the jar, making sure the beans are fully submerged.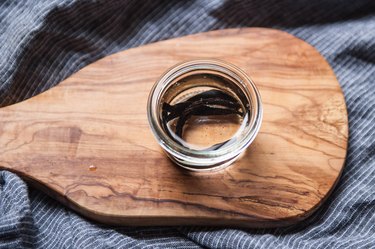 Tip
Mix it up! Vodka is customary, but feel free to replace some or all of the alcohol with bourbon, rum or brandy. Don't feel the need to use the most expensive stuff you've got, a mid-range brand will do just fine.
Step 4: Cover
Replace the lid making sure the mixture is tightly covered. Shake well.
Step 5: Wait
It will take at least one month, preferably two months, for your extract to mature. Keep in a cool, dark place like a cabinet until it's time to use.
Tip
Want to give this as a gift before the waiting time is up? No problem! Just add a gift tag that says the date when the extract will be ready to use.