People of a certain age remember when Ronald McDonald, the Hamburglar and Grimace were common fixtures in TV commercials. McDonald's largely phased out these characters when the company moved toward targeting adults with its advertising in the early 2000s, but Ronald McDonald is an enduring symbol of the fast food giant.
The character has worn a few variations on the same costume over the years, always in shades of mustard yellow and ketchup red. The most famous costume includes the iconic yellow Ronald McDonald jumpsuit worn with white and red striped accents.
Sourcing Ronald McDonald's jumpsuit might be the most challenging part of putting together this costume. Few people already own a sleeveless yellow jumpsuit that hits at midcalf. Other than buying a mass-produced Ronald McDonald costume, there are a few ways to put this look together yourself.
One option is to buy a pair of yellow safety coveralls, which people who work around hazardous materials might wear. Cut off the hood, sleeves and legs so the garment hits you just below the knees. This method will create a good look-alike of the Ronald McDonald jumpsuit, though you might get hot wearing a plastic jumpsuit all night. Plus, these coveralls are generally sold in adult sizes, so this method might not work to make a kids' Ronald McDonald costume.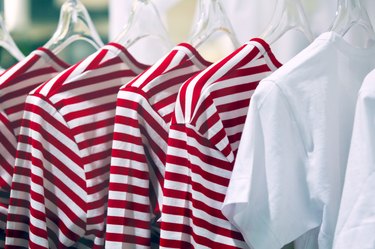 Another options is to fake the jumpsuit look by wearing a shirt and pants in the same shade of mustard yellow. Cut off the sleeves of the shirt and bottom of the pants or tuck them in and secure them with safety pins. A sleeveless yellow vest will also work. If you're putting together a kids' Ronald McDonald costume, yellow overalls or even a yellow apron will work to approximate the jumpsuit look.
Ronald McDonald Costume DIY
Once you have your yellow jumpsuit, the next part of your Ronald McDonald costume DIY project is the striped shirt and leggings or socks. If you already own a white and red striped shirt with long sleeves, you're all set. If not, add stripes to a long-sleeved white T-shirt using red electrical tape or red fabric paint. Use the same treatment to add stripes to a pair of white leggings or wear tall striped socks if your costume already includes pants.
Your Ronald McDonald jumpsuit also needs some embellishment. If you're striving for real authenticity, you'll need to add a big white collar to the neckline. One easy way to do this is to cut the collar area from a thrift-store shirt to wear under the jumpsuit. Next, create a thick red stripe down the center of the jumpsuit with red electrical tape, ending at the waist. Ronald's jumpsuit also has a patch with the famous McDonald's golden arches on the left side of the chest. Paint the symbol on a piece of white or red fabric and stitch or pin it to your jumpsuit.
Finish your Ronald McDonald costume with a pair of comfortable red shoes. Ronald's might be oversized, but wearing clown shoes to a crowded event is a recipe for disaster in real life.
Ronald McDonald Hair and Makeup
How you approach Ronald McDonald's hair and makeup is a matter of personal preference. The character famously wears a bright red wig and a full face of clown makeup. To copy the look, use a makeup sponge to cover your face with white oil-based makeup. Use makeup brushes or clean paintbrushes to paint your nose and mouth with red makeup and to create arched black eyebrows above your real brows.
If you don't want to cover your entire face or if you're putting together a kids' Ronald McDonald costume and don't want your child to terrify his friends with clown makeup, just paint on a red nose and exaggerated black eyebrows. You can also skip the paint altogether and wear a removable clown nose. With a red clown wig and the rest of the costume elements, the ensemble will be instantly recognizable.