Day of the Dead is a family event celebrated in many Latin American countries, particularly in Mexico. Day of the Dead is a time to remember and honor the deceased and usually is characterized by ofrendas, which are items placed on shrines or altars constructed to present offerings to the spirits.
Things You'll Need
Treats such as candied sugar skulls
Incense
Three boxes
Personal items of the deceased
Salt
Candles
Calaveras
Water
Favorite beverage of the deceased
Papel picado
Step 1
Make an altar for the home. Stack three boxes pyramid style to represent the three levels of death a soul must travel.
Step 2
Make calaveras, or skeleton figures, to symbolize the deceased as they were when they were alive. Depict the special interests of the departed, such as playing the guitar or dancing, and how they physically looked. Place the calaveras on the second level of the altar.
Step 3
Add mementos to the altar to assist spirits in finding the correct house and family to visit during Day of the Dead. These items might consist of personal items familiar to the deceased, such as jewelry or musical instruments.
Step 4
Add favorite Day of the Dead foods to the shrine, such as candied sugar skulls, sweet breads or hojaldra. Place favorite beverages of the deceased, such as wine, on the altar or shrine. It is customary to provide water and salt for purification of the shrine and visiting souls.
Step 5
Surround the altar with plenty of candles. Place four candles on the top level of the altar to represent the four directions: north, east, south and west.
Step 6
Burn incense on the altar for purification and to guide the spirits to your home for Day of the Dead. Copal, a resin derived from a tree native to Mexico, is the traditional incense used.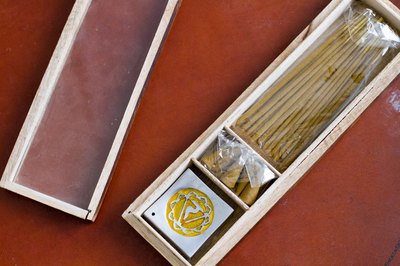 Step 7
Put the finishing touch on the shrine for Day of the Dead with papel picado, an art form in which colorful tissue paper is folded and cut into patterns. Attach these decorations to the bottom of the altar boxes.