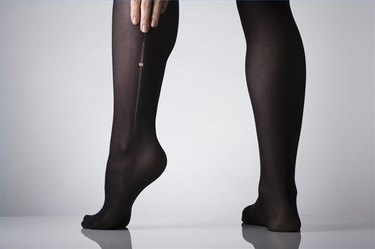 Any woman who has ever worn pantyhose has experienced the dreaded run. It will often occur at inconvenient times, and most wearers want a quick fix for it. Unfortunately, runs can't actually be sewn seamlessly, nor would the amount of time, cost and effort be worth it if they could. However, preventing the run from getting any bigger is certainly a viable alternative.
Things You'll Need
Clear nail polish

Hair spray
Step 1
Place a couple of drops of clear nail polish on both ends of the run as soon as you spot it.
Step 2
Let the nail polish dry. To keep the stocking from sticking to your skin, gently tug it away from your leg as it dries.
Step 3
Spray the run with hairspray if you don't have clear nail polish. Spritz lightly -- too much product and the nylon can become still.
Step 4
Repeat if necessary. You may have to put more than one coat of nail polish on the pantyhose or spray the area several times with hairspray to keep the run from growing.
Tip
If you are worried about pantyhose runs, consider carrying an extra pair of hose in your handbag.
You should always be careful of snagging jewelry on your pantyhose. This is the most common cause of runs.
There are several brands of pantyhose that are run resistant. These nylons are made from materials that are tougher than traditional hosiery.
After treating a run at the top of the pantyhose to prevent it from spreading, you can still wear it with longer skirts.
Prevent pantyhose runs by handling the nylons carefully. They should not be stored in wooden drawers and should be put on cautiously, especially if you have long nails.