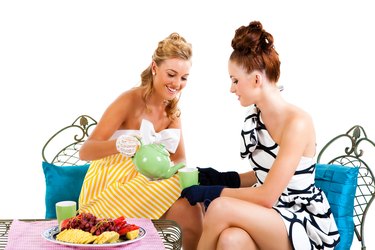 Tea parties aren't just for young girls and their teddy bears anymore. Although youngsters still enjoy clinking their tea cups and nibbling on finger sandwiches, adults are also partaking in these festive events. Whether you're dressing your child for a birthday party or attending an adults-only gathering with family and friends, tea-party attire includes a few easy-to-follow guidelines.
Tea Party Style
For all ages of attendees, tea-party style is semi-formal. Generally, clothing is comparable to what you would wear to church or an afternoon wedding. Bright patterns and colors are appropriate for a tea party, and both kids, women and men can find tea-party attire that is suitable for this festive occasion.
Attire for Youngsters
Kids have two options when dressing for a tea party. First, they can wear semi-floral attire, such as cotton or tulle floral sundresses for girls and khakis, button-down shirts and bowties or ties for boys. Alternatively, children might want to wear dress-up clothes, from satin and lace princess dresses to kid-sized blazers and slacks. Let the tea party invitation determine whether your kids will wear semi-formal or dress-up attire to the party.
Feminine Looks for Women
Women attending a tea party should choose semi-formal dresses and skirt-and-blouse combinations. A short cocktail dress, such as an A-line frock or a classic shift dress, are appropriate. Avoid black and other dark hues. Instead, choose soft pastels or bright floral patterns -- the more color, the better. A pencil skirt with a colorful silk or chiffon blouse is an alternative to the classic daytime dress. A pair of nude pumps or dressy sandals completes the tea-party look.
Must-Have Accessories
For classic tea-party ensembles, women need accessories to complete their look. For added elegance, nab some white gloves; choose between those that end at either the wrist or just below the elbow. Wide-brimmed, woven hats are a popular accessory as well -- select hats with flowers, tulle, ribbon, feathers and other adornments. A fascinator, a headpiece that features similar adornments, is another option for a tea party.
Proper Attire for Men
Semi-formal attire for men calls for a dark suit in hues of navy, gray or brown, which is a safe choice for a tea party. A crisp white shirt complements the dark suit and brightens the look for an afternoon tea. A colorful tie adds a touch of festivity for the occasion -- a pastel gingham tie or bright striped tie completes the suit look. Classic brown or black leather shoes finish a gentleman's tea-party outfit.