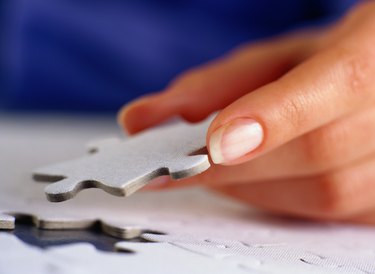 Although the origin of National Puzzle Day is murky, possibly tracing back to a puzzle fan whose birthday was on January 29, it's no wonder that the day exists: Puzzles have been and continue to be extremely popular worldwide. When you solve, create and celebrate puzzles on this day, you become part of a history that dates to ancient times, and you join millions of people in North America trying to solve puzzles.
Do a Puzzle
In honor of the day, stretch your brain by doing a different puzzle, morning, noon and night. Choose from puzzles in newspapers and online, either numerical, such as Sudoku or Ken-Ken, crossword puzzles with words or jigsaw, shaped puzzles. Better yet, invite someone to join you, either online or in-person. To engage others, buy inexpensive jigsaw puzzles from a thrift store and set them up in your work break-room on January 29.
Increase Your Puzzle-Smarts
While you may never be an official "Puzzle Master," or enigmatologist, like Will Shortz, puzzle author and co-founder of the World Puzzle Federation, you can join his organization on January 29 and participate with people from more than 50 countries in online tournaments, as of the time of publication. Alternately, read a puzzle book from the library or buy a puzzle magazine to learn more about the multitude of puzzle types -- The National Puzzler's League website lists puzzles ranging from rectangular puzzles to diamonds, octagons, windmills and three dimensional forms.
Search Your Community
If you live in Port Clinton, Ohio, you can visit the National Puzzle Museum, which contains about 4,000 puzzle artifacts, including sheet music about crosswords and a crossword jigsaw puzzle. Check your local newspaper to see if your community has events scheduled in honor of the day, such as the Puzzle Day Celebration at The Discovery Museums in Acton, Massachusetts, or the Silicon Valley Puzzle Fest contest, in Morgan Hill, California.
Create Your Own Puzzle
If you've always wanted to create your own puzzle, January 29 is the day to start. Use your own photographs to create jigsaw puzzles by mounting the prints on thin plywood with glue, sealing them with clear varnish, and cutting out the pieces with a jigsaw. Use heavy construction paper to create a seven-piece tangram puzzle with geometric shapes that form animal or other common figures. If you're a parent, ask your children for their weekly spelling words and create a crossword just for them.