Part breakfast, part dessert, chocolate chip muffins are one delicious way to start the day. Store muffins in a freezer-safe zip-top bag and pluck one out every morning... or snack time!
Things You'll Need
1 stick unsalted butter (1/2 cup), softened

1 cup sugar

2-1/2 cups flour

1 teaspoon baking powder

1 teaspoon baking soda

1/2 teaspoon salt

3 eggs

2 teaspoons vanilla

1 cup buttermilk

1 cup chocolate chips plus a handful more to sprinkle on top (Semi-sweet chocolate chips work best for this recipe)
Cream the Butter and Sugar
Using either a stand mixer or hand beaters, cream together the butter and sugar for about 2 minutes.
Tip
Use half granulated sugar and half brown sugar for another flavor dimension.
The mixture should be fluffy.
Add the Wet Ingredients
Crack the eggs, one at a time, beating thoroughly in between each. Add the vanilla and mix again.
Pour the buttermilk in, mixing again.
Tip
No buttermilk? Combine the same amount of regular milk with the juice of a lemon, stir and let sit for 2 minutes.
Add the Dry Ingredients
Place a sifter over your bowl to easily combine the dry ingredients with the wet. Add the flour, baking powder, baking soda, and salt. Shake your sifter until all the dry ingredients are in the bowl and stir until just incorporated.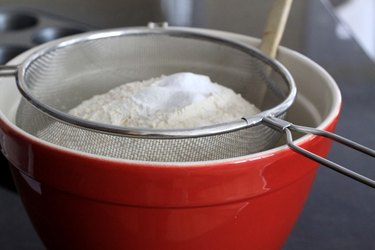 Tip
If you don't have a sifter, just add the dry ingredients as usual.
Mix in the chocolate chips, except for a small handful. Reserve those to place on top of each muffin once they are in the muffin pan, before it goes in the oven.
Prep the Pan
Coat your muffin pan with a nonstick cooking spray or use a paper towel to smear a little butter thoroughly around the inside of each muffin cup.
Then use a 1/4-cup measuring cup to scoop out the batter. A small silicone spatula will pop the batter out very well.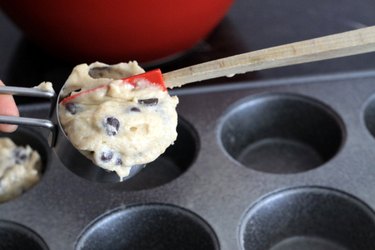 Fill the entire pan (12 muffin cups) about three quarters full.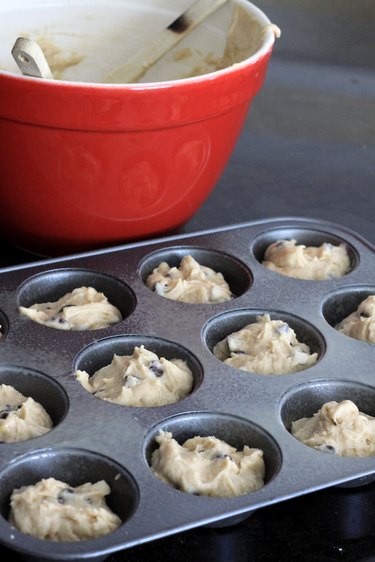 Sprinkle 2 to 4 chocolate chips right on top of the muffin batter before placing in the oven. It's hard to resist a muffin with chocolate chips peeking out the top!
Bake and Cool
Bake for 15 to 18 minutes at 375 degrees F. Remove muffins from the pan and allow to cool completely on a wire rack. Now they're ready to eat!