A funfetti cookie cake is the most decadent treat for a sweet celebration! This cake is made entirely of funfetti studded cookies that sandwich layers of a delicious pink buttercream. It's also topped with edible rose petals, too. It's the perfect birthday cake! Learn how to make this impressive funfetti cookie cake by following the easy recipe below.
Things You'll Need
7 ounces (200 grams) unsalted butter, melted

7 ounces (200 grams) light brown sugar

3 1/2 ounces (100 grams) granulated sugar

1 large egg

1 teaspoon vanilla bean extract

9 ounces (250 grams) all-purpose flour

1 1/2 teaspoons baking soda

1/2 teaspoon salt

1/2 cup funfetti sprinkles

2 sticks (215 grams) unsalted butter, at room temperature

5.7 ounces (160 grams) powdered sugar

1 tablespoon heavy cream

1 teaspoon vanilla bean extract

2-3 drops of pink food coloring, optional

Edible rose petals, optional
Step 1: Bake the cookies
Pre-heat the oven to 370 degrees Fahrenheit (180 degreesCelsius). Grease and line two baking sheets. Set them aside.
In a large sized mixing bowl, combine the melted butter, brown sugar and granulated sugar. Whisk until combined. Add in the egg and vanilla bean extract. Whisk until smooth and glossy. Add in the all-purpose flour, baking soda and salt. Mix with a wooden spoon until the dough is just beginning to come together. Add in the funfetti sprinkles. Stir until evenly combined.
Using a large cookie scoop or two tablespoons as a measure, roll out the mixture to form 8 dough balls. Divide them evenly between the baking trays, making sure to leave enough room for spreading whilst baking.
Bake for 10 to 12 minutes, or until golden and firm around the edges but still soft in the middle. Set the cookies aside to cool completely whilst you prepare the buttercream.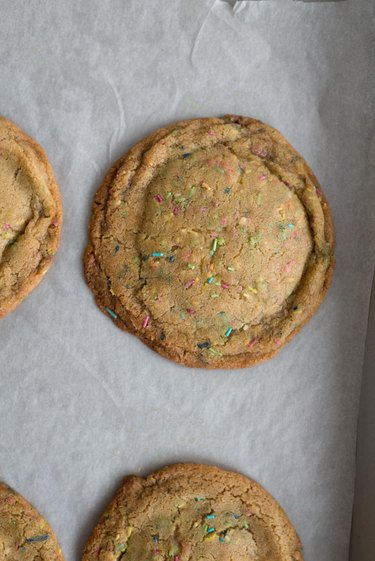 Step 2: Make the buttercream
Place the soft butter, powdered sugar and heavy cream in a medium sized mixing bowl. Using electric beaters, beat until the mixture is very fluffy and light in color (about 3 minutes). Add in the vanilla bean extract and pink food coloring, if desired. Beat, for another 2 minutes, or until evenly combined and smooth. Set the buttercream aside for assembly.
Step 3: Assemble the cookie cake
Place the first cookie on a cake stand or serving plate. Spread about 1 generous tablespoon of the buttercream over the top. Top with another cookie and use your fingers to gently press down to sandwich. Repeat this layering process until all of the cookies and the buttercream have been used. You will have a cookie cake that is 8 layers high.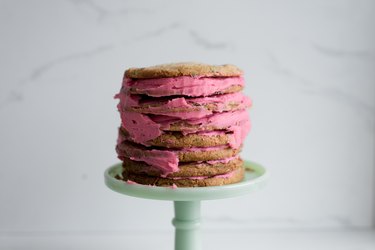 Set in the refrigerator to chill for 15 minutes to harden the buttercream and soften the cookies so that the cake is easier to slice.
Step 4: Slice and serve
When you are ready to serve the cake, remove it from the refrigerator and let it sit on the kitchen counter for 5-10 minutes, to just return back to room temperature before slicing.
Serve and enjoy! The cookie cake will keep for up to 4 days in the refrigerator. You can also seal it in an airtight container and store it in the freezer for up to 2 months. Let the cake return to room temperature before serving.