Chicken can be used in so many different recipes like soups, salads, dips, wraps, pot pies and tacos. It's really easy to cook chicken in an Instant Pot quickly, and the chicken stays so juicy. This tutorial will show how to cook chicken breast from frozen in an Instant Pot or other electric pressure cooker.
Things You'll Need
3 to 6 frozen chicken breasts

1 cup of chicken broth or stock

Instant Pot or other electric pressure cooker
Step 1: Add one cup of chicken stock or broth the Instant Pot.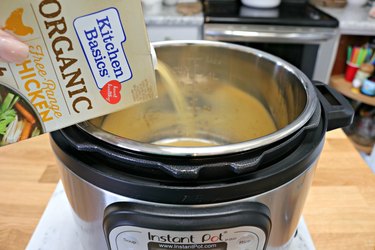 Step 2: Add frozen chicken breasts.
Step 3: Lock the lid into place and turn the vent to sealing.
Step 4: Set the timer.
Press the poultry button and set the timer to 20 minutes. The Instant Pot will begin to build pressure. Once it has reached the correct amount of pressure, cooking will begin and the timer will start to count down.
Step 5: Allow the Instant Pot to release pressure naturally.
Once cooking has stopped, your Instant Pot will make a series of beeping sounds. Allow the pressure to release naturally for about 10 to 15 minutes.
Step 6: Remove chicken.
Once the pressure has been released, you can unlock the Instant Pot and remove the chicken.
You can slice or shred your chicken.
Shredding Chicken Tips
To shred it, use two forks to pull the chicken apart. The chicken should shred with ease.
Another fast and easy method for shredding chicken is to use a hand mixer or a stand mixer on low to medium speed. As long as the chicken is still warm, the mixer will shred the chicken within a couple of minutes.
Tip
Chicken shreds much easier while it is still warm.
You can use the shredded chicken in soups, salads, casseroles, for tacos, enchiladas and so much more. It also freezes really well.