Things You'll Need
1 pound veal steaks

1 pound pork steak

1 cup breadcrumbs

2 tablespoons oil or butter

1 egg

Salt

Pepper

2 cups of stock/broth

1 cup milk

6-10 skewers

Frying pan

Fork

Pot

Containers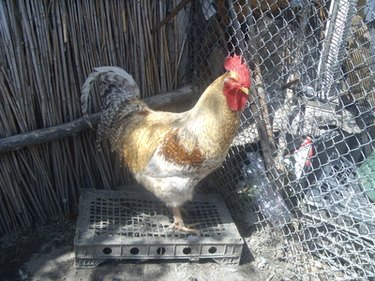 City chicken originated in western Pennsylvania, possibly in Pittsburgh, around 1930. Prior to 1930, cookbooks contained similar recipes called mock chicken. The dish uses veal and pork to mimic chicken, which was expensive at the time. Cooks cubed pork and veal, slid the pieces onto to a skewer and sautéed them in oil. Nowadays, chicken farmers mass-produce chickens for the dinner table, decreasing the cost and eliminating the need for city chicken. Still, it's an affordable entrée steeped in the history of the United States.
Step 1
Cut the veal and pork into 1-inch cubes. Slide veal and pork chunks, alternating the pork and veal, on to the skewer. Each skewer should hold five to six pieces, depending on the size. Season the meat with pepper and salt to taste.
Step 2
Preheat the oven to 325 degree F. Put a large frying pan on the stove and turn the stove to medium-high.
Step 3
Beat the egg with a fork and set up a breading station by putting the breadcrumbs and egg into separate, large containers. Insert the skewer into the egg, then breadcrumbs. Repeat for each skewer.
Step 4
Place skewer into the pan. Brown the meat for 1 to 2 minutes on each side. If necessary, you can skip the browning and put the skewers directly into the oven.
Step 5
Remove the skewers and place into an oven-safe pan. Add broth or milk. Cover with foil and insert into the oven. Bake for 1 hour. Take the mock chicken out of the oven and serve immediately.
Tip
Alternatively, you can combine pepper, salt, and ¾-cup flour. Dip the skewer into the eggs, then the flour mixture.
You can use the pan drippings to make gravy.