While it may seem daunting, egg drop soup is actually quite easy to prepare. With plenty of options for additions and substitutions, you can customize this recipe to your liking. For a heartier meal, add chopped chicken, ham, shrimp, or thinly sliced beef for an animal protein infusion. Or add vegetables and use vegetable broth (instead of chicken broth) for a protein-packed vegetarian meal.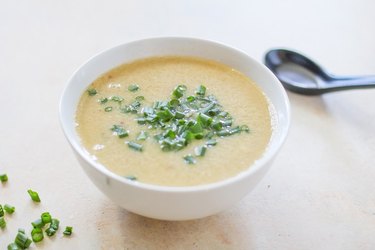 Things You'll Need
2 tablespoons canola or olive oil

2 cinnamon sticks

1 star anise

2 stalks lemongrass, halved and chopped into 3-inch pieces

2-inch piece of ginger, sliced into rounds

3 cloves garlic, minced

½ teaspoon red pepper flakes, optional

4 cups chicken broth (or vegetable broth)

2 tablespoons miso paste

2 tablespoons low-sodium soy sauce or to taste

3 large eggs

1½ tablespoons cornstarch, separated

1 bunch green onion, chopped
Tip
If desired, add rice noodles for a ramen-style egg drop soup.
Step 1: Prepare the Broth
Add the olive oil, cinnamon sticks, anise, lemongrass, garlic, and red pepper flakes to a large saucepan or pot. Heat to medium-high and cook, stirring frequently, until spices are very fragrant, about 3 minutes.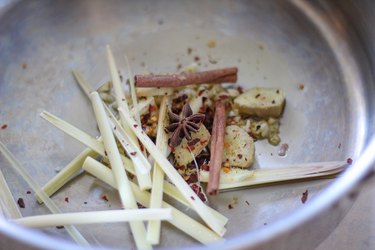 Add the chicken broth, soy sauce, and miso paste and stir well. Bring mixture to a full boil, then reduce the heat, cover, and simmer for 15 to 20 minutes.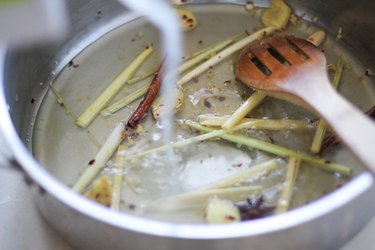 Taste the broth for flavor. Add more soy sauce or miso paste if desired. Remove the ginger rounds, cinnamon sticks, anise, and lemongrass stalks from the broth using a slotted spoon, and discard.
Step 2: Thicken the Broth
Add 1 tablespoon of cornstarch to a small bowl and pour in 1/3 to 1/2 cup of the hot broth. Stir well until dissolved.
Transfer the cornstarch mixture to the pot with the broth and stir well, leaving the broth at a very gentle simmer.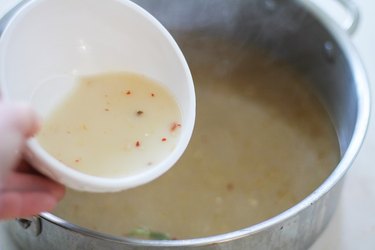 Step 3: Do the Egg Drop
Add eggs to a small bowl, along with the remaining (1/2 tablespoon) cornstarch. Whisk together until well-combined.
Slowly pour the egg/starch mixture into the simmering broth through the tines of the fork. Do this a little bit at a time, whisking the broth between pours. Once all of the egg has been poured into the soup, allow broth to sit at low heat for a couple of minutes, whisking occasionally, to ensure egg cooks all the way.
Step 4: Serve Soup Immediately and Enjoy
Serve the egg drop soup with freshly chopped green onion, and enjoy!