Chia seed pudding is a healthful, superfood dish that you'd never realize was nutritious! Full of fiber, antioxidants, protein, calcium, and other minerals, chia seeds secrete a gelatinous substance when soaked in liquid, resulting in a thick, creamy, guilt-free pudding. All it takes are a few basic ingredients and 5 minutes of time to prepare this delectable treat. Get creative with your add-ins and toppings for the ultimate healthy breakfast or dessert!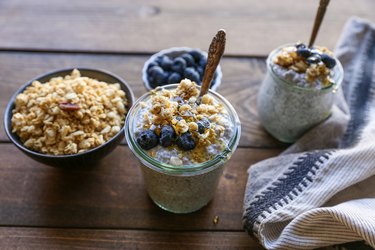 Things You'll Need
2-1/2 cups unsweetened almond milk (or milk of choice)

1/2 cup chia seeds

3 to 4 tablespoons pure maple syrup, honey, or agave

1/2 teaspoon vanilla extract, optional

Pinch sea salt
Step 1: Add Ingredients to a Jar
Pour the almond milk into a jar, or sealable container, followed by the chia seeds, pure maple syrup, vanilla extract, and sea salt.
Step 2: Seal the Jar and Shake
Secure the lid firmly on the jar and shake well until the contents are well combined.
Step 3: Chill
Refrigerate the pudding overnight, or until very thick, at least 4 hours. If possible, stir once or twice throughout the chilling process.
Step 4: Serve!
Once the pudding is thick, taste it for flavor and add sweetener to taste. Serve with your choice of fresh fruit, nuts, and/or granola.
Tip
Use any type of milk to make this chia seed pudding, such as coconut milk, cashew milk, or cow's milk. To make this recipe vegan, use a non-dairy milk and any liquid sweetener other than honey.
Sweeten to taste using any type of liquid sweeteners. Pure maple syrup, honey, agave nectar, or coconut palm nectar are recommended to keep the dessert naturally sweetened.
To change up the flavor of the pudding, add ingredients to the jar prior to allowing the pudding to sit overnight. For instance, you can add chopped or pureed fruit or jam, cocoa powder, etc.
Finish off the pudding with your favorite toppings, such as chocolate chips, chopped nuts, a drizzle of pure maple syrup, granola, crunchy cereal, fresh seasonal fruit, or nuts.