Decorating pumpkins for Halloween is always a must before the holiday, but that doesn't mean your creativity should be as predictable. Defy expectations with three simple DIY pumpkin-decorating ideas — using confetti, spray paint and "polka dot" designs — and you can transform these autumn mainstays into modern works of art.
Now the only thing that's certain about this annual activity is how much fun it'll be to put traditional carved pumpkins aside.
Things You'll Need
Three pumpkins

White crafting glue or hot glue

Paintbrush

Confetti

Electric drill and drill bits

Washcloth

Letter stickers

Press-and-seal wrap

Spray paint
Using a large paint brush, cover a section of your pumpkin in white craft glue. You can also use hot glue if you'd prefer. Sprinkle on a large amount of confetti until you are satisfied with the look. Then, repeat the process on another section until the entire top of the pumpkin is covered in confetti. Wait for the glue to dry and display as desired.
Create Easy Pumpkins with "Polka Dots"
Drilling a series of holes in a pumpkin can create an elegant impact with little effort. Choose a variety of drill bits for large and small holes. Hold the pumpkin firmly with one hand, and press the drill into the pumpkin with your other hand. Drill holes randomly, or in straight lines, and your pumpkin will be ready in a matter of minutes. Use a wet washcloth to wipe the pumpkin down before displaying.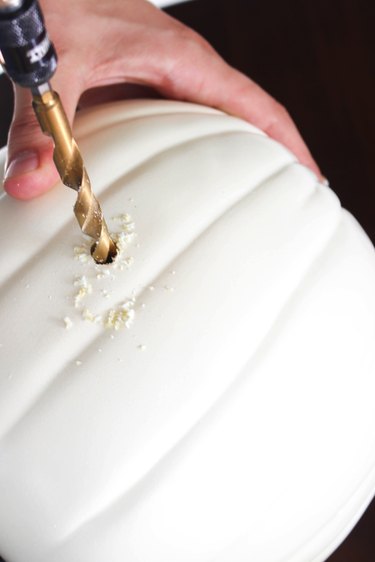 Add Spray Paint to Your Pumpkins
Place your pumpkin in a well-ventilated area with a protective layer, like a piece of cardboard or a drop cloth, underneath it. Cover the top half of the pumpkin with press-and-seal wrap. Then, use letter stickers to spell out words, and cover the stem with press-and-seal wrap. Now, spray paint. Remove the stickers and the press-and-seal wrap once the paint has dried. You could also spray paint one portion of your pumpkin for a fun dip-dyed finish, or use a stencil.
You can also use hot glue if you'd prefer.
Display Your Painted Pumpkins
Display a variety of pumpkin styles, spooky or cutesy, on a mantle, coffee table or entryway to create an inviting and interesting backdrop. You could also use cake stands, boxes or books to create varying heights for your arrangements, too!
These easy DIY pumpkin-decorating ideas make great Halloween decor, but they can also be used at any time during the fall to add some colorful gourds to your home. Make them a centerpiece of your next Halloween party, then leave them up for continuing festive home decor.