If you need a simple party snack that looks like you went to a lot of trouble, this could be it. The recipe combines all the elements of pumpkin pie in an easy-to-make, easy-to-serve snack.
Things You'll Need
Flour

Parchment paper

Refrigerated pie crust

Decorative pie crust cutters

Cinnamon sugar

Cream cheese, 12 ounces

Powdered sugar, 1 cup

Pumpkin butter, 1 1/2 cups

Whipped cream or whipped topping, 2 cups
Pie Crust Cookies
Set out refrigerated pie crust and allow to come to room temperature. Preheat oven to 400 degrees Fahrenheit.
Roll out a large piece of parchment paper, and then dust it with flour. Dip each decorative pie crust cutter into flour.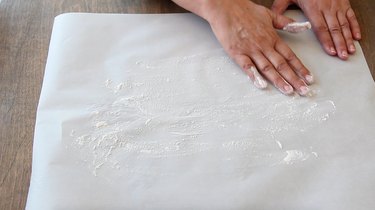 Gently unroll the pie crust, then use the pie crust cutters to cut out individual pieces.
Lay the cut-out shapes on a wire cooling rack. Set the rack over the parchment paper, then generously sprinkle the cut-out shapes with cinnamon sugar. Place on a cookie sheet and bake at 400 degrees for 15 to 18 minutes or until golden brown.
Pumpkin Butter Dip
Set 12 ounces of cream cheese out to soften slightly. Place the softened cream cheese and 1 cup of powdered sugar in a bowl, and beat until light and fluffy.
Add 1 1/2 cups of pumpkin butter and beat until thoroughly combined.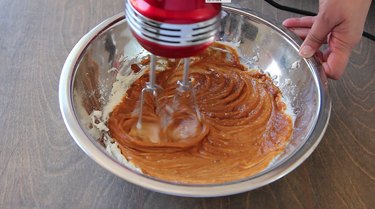 Gently fold in 2 cups of whipped cream or whipped topping.
Chill thoroughly before serving.