Inspired by the pure fabulous-ness of the infamous Black Tap, we bring you fall's greatest gift: a pumpkin spice milkshake. Of course, the milkshake is only the beginning -- the foundation for garnish skyscrapers.
Things You'll Need
Blender

Vanilla ice cream, 7 cups

1 cup milk

Pumpkin pie filling, 1 1/2 cups

Caramel sauce

Graham crackers

Whipped cream

Garnishes as desired
Place seven big scoops of ice cream into a blender jar.
Tip
Set the ice cream out to soften about 5 minutes before you plan to make the milkshake. If you still have trouble, run the scoop under warm water until it's slightly warm to the touch.
Add 1 1/2 cups of pumpkin pie filling and 1 cup of milk.
Now the fun begins! Dip the rim of the serving jar or glass in caramel sauce.
Crush a graham cracker (or two) and spoon the crumbs onto the caramel sauce.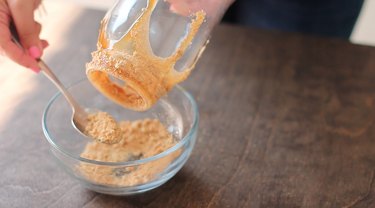 Top milkshake with whipped cream. Spear donut holes and/or a donut with a straw or bamboo skewer.
Add caramel corn and sprinkles. Drizzle with caramel sauce.
Add straws and let the gluttony begin.